Asia-Pacific
India
Iran
Middle East
Senior Iranian Cleric Censures Media Silence over Anti-Muslim Atrocities in India
Senior Iranian cleric Grand Ayatollah Hossein Nouri Hamedani denounced savage crimes against the Muslim minority in India, and reprimanded the mainstream media of the world for turning a blind eye to the ongoing brutalities in the South Asian country.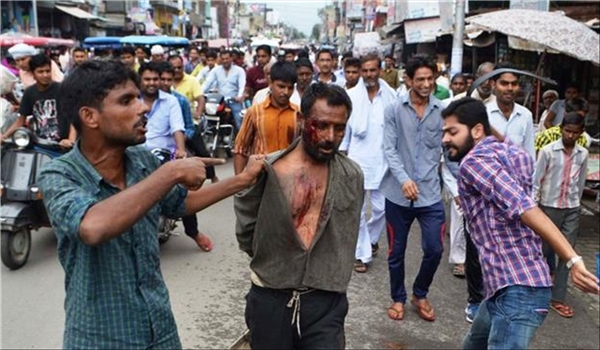 "Unfortunately, while these heinous and painful atrocities are being carried out in India, the face of the international media's silence, and the heads of Islamic countries and human rights organizations have done nothing about the disaster," Ayatollah Nouri Hamedani said.
He urged the Indian government to put an immediate end to the anti-Muslim measures, saying, "We hope that the Indian government will end this issue as soon as possible by taking into consideration the ancient culture and history of its people in the fight against Arrogance and colonialism."
Based on the Indian government's Citizenship Amendment Act, all nationals from other countries can attain citizenship except Muslims.
By smoothing the path for all non-Muslim immigrants from adjoining countries to attain citizenship, the law paves the way for Muslims to be unfairly disadvantaged when seeking to immigrate to India.
Iranian Foreign Minister Mohammad Javad Zarif on Monday condemned the outburst of violence against Indian Muslims, urging New Delhi to protect all of its citizens regardless of their faith and ethnicity.
"Iran condemns the wave of organized violence against Indian Muslims," Zarif said in a tweet, while highlighting amicable relations between Tehran and New Delhi
"For centuries, Iran has been a friend of India," he said, adding, "We urge Indian authorities to ensure the wellbeing of ALL Indians & not let senseless thuggery prevail."
"Path forward lies in peaceful dialogue and rule of law," Zarif concluded.
Earlier on Monday, Iranian Foreign Ministry Spokesman Seyed Abbas Mousavi voiced his country's serious concern about the rising atrocities against Muslims in India, adding that Tehran is consistently following up the case.
"We are following the news coming from India with concern," Mousavi said in his weekly presser.
"The Islamic Republic of Iran is following up on the issue through many channels and we have heard that some Muslim countries have had some movements."
"We know India as a country where all ethnicities and religions live peacefully side by side," he said, adding, "We hope that violence against Muslims in India would come to an end."
"Considering the wisdom of Indian authorities that we are aware of, the country will become a peaceful place for all ethnicities," he said.
The worst anti-Muslim violence by Hindu nationalists began on the eve of a state visit by US President Donald Trump, infamous for his anti-Muslim rhetoric and policies.
A police statement on Saturday, however, came without elaborating on whether the detainees were perpetrators of deadly violence on mosques and ordinary Muslim residence or Muslims defending their homes against indiscriminate attacks by Hindu nationalists with little intervention by police officers and other government security forces.
Over 40 people were declared killed by Hindu mobs last week, with hundreds more reported injured amid news accounts of largely useless police intervention to end the violence and meager international criticism of New Delhi's failure to protect its minority Muslim population.
The violence began amid widespread protests across India over a citizenship law that Prime Minister Narendra Modi's Hindu nationalist government introduced in December offering a path to Indian citizenship for six religious groups from neighboring countries, specifically excluding Muslims.
Critics insist the law is discriminatory, coming in the wake of other severe government measures against the country's Muslim population such as withdrawal of autonomy for Muslim-majority Jammu and Kashmir province that has intensified discord across India about the future of its 200 million Muslims.
On Tuesday, Ayatollah Seyed Mohammad Ali Alavi Gorgani had condemned religious discrimination against Indian Muslims, rebuking the so-called international advocates of human rights for turning a blind eye to savageries and brutalities in the South Asian country.
On his twitter page in Urdu and English languages on Thursday, Supreme Leader of the Islamic Revolution Ayatollah Seyed Ali Khamenei voiced deep concern about the killing of Muslims in India by extremist Hindus, calling on New Delhi to terminate the violence.
Ayatollah Khamenei made the remarks to condemn the brutal killing of over 40 Muslims during a four-day span of violence that began in New Delhi on February 23.
"The hearts of Muslims all over the world are grieving over the massacre of Muslims in India," he said.
"The government of India should confront extremist Hindus and their parties and stop the massacre of Muslims in order to prevent India's isolation from the world of Islam," Ayatollah Khamenei added in his tweet.