Iran
Middle East
Saudi Arabia
World News
Senior Iranian cleric: West shedding crocodile tears for Ukraine while silent on Saudi crimes
A senior Iranian cleric says the West is shedding crocodile tears for Ukraine while keeping silent on the atrocities committed by Saudi Arabia, in particular its recent mass execution.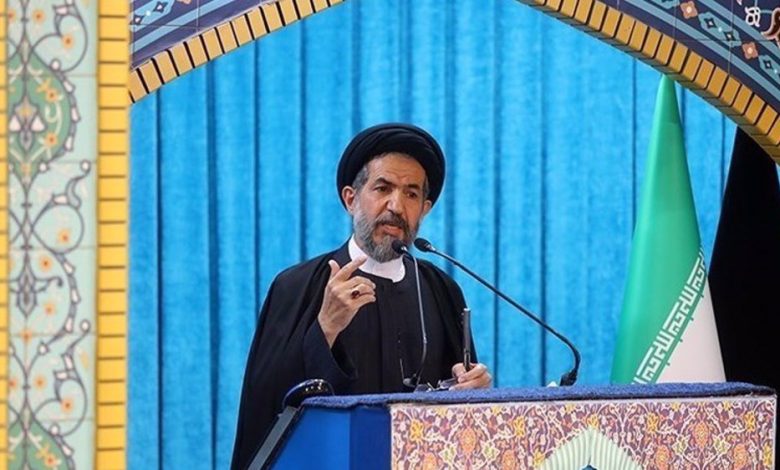 Addressing worshipers at Friday prayers in Tehran, Hojjatoleslam Mohammad-Hossein Aboutorabi-Fard said the Saudis have been attacking the innocent Yemeni people for eight years, during which the West remained silent.
"Today, we grieve for the innocent people of Ukraine. We never welcome war and aggression, but the tears that the world sheds for Ukraine are crocodile tears," he said.
Referring to British Prime Minister Boris Johnson's visit to Saudi Arabia, the top cleric asked, "What can be done about these double standards?"
"If you are concerned about human rights, why do you travel to this country immediately after this horrific crime to allay its concerns by announcing your support? These double standards over human rights are the beginning of the end of Western power and the collapse of their hegemonic system," he added.
The state-run Saudi Press Agency reported last Saturday that the kingdom executed 81 prisoners in a single day over "terror-related offenses." The mass execution marked the largest carried out by the ultra-conservative kingdom in one day.
The latest executions by Saudi authorities in one day exceeded the total number of executions conducted in the Arab kingdom throughout 2021.
The US-based rights group also reported that more than half of the beheaded people, 41, belonged to Saudi Arabia's Shia Muslim minority "who have long suffered systemic discrimination and violence by the government."
According to an AFP tally, Riyadh has executed 100 people since January this year, the latest of which was the execution of four people on Thursday.
The Student Basij Organization also slammed as "unacceptable" the silence of international organizations in the face of the atrocities committed by Saudi Arabia.
In a statement on Friday, the Student Basij Organization said Riyadh committed the crime while the world was focusing on the war between Russia and Ukraine.
"The silence of the international community against these crimes and the lack of appropriate action against this audacity add to their disgrace, and these organizations' double standard is becoming more and more evident to the world public opinion," it said.
"The brutal execution of 81 people under the false pretext of having links with terrorist groups and enemies of the Saudi government added another dimension to the regime's numerous crimes," the statement further said.
It also pointed to Saudi Arabia's incessant bombardment of Yemeni women and children for seven years, its support for terrorist groups in Iraq and Syria, its execution of political dissidents, and its support for terrorist and separatist groups in Iran as other crimes committed by the kingdom.
The brutal Saudi regime has taken a reformist gesture while the Shia minority living in the Arab country are being severely oppressed and are one by one sentenced to death on baseless accusations, the statement added.