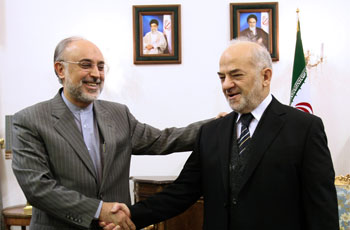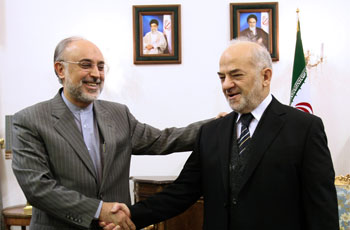 IRI acting Foreign Minister Ali-Akbar Salehi said that Iran and Iraq were each other's cultural continuation.
In a meeting with the head of Shia faction in the Iraqi parliament Ibrahim al-Jafari in Tehran on Tuesday, Salehi congratulated his guest on the establishment of the new government in Iraq, expressing pleasure with the formation of the new government.
IRI acting Foreign Minister expressed hope that with the existing potentials in Iraq, an advanced and developed Iraq can emerge and the country could find its real position soon, like what it had in history.
Referring to economic issues, as a main motive in mutual relations, Salehi said that the current trade exchange level, which is around 7 billion dollars, is not adequate for capacities of the two countries and called for the promotion of trade and economic cooperation between Iran and Iraq.
He expressed hope that with the help of an intellectual character like Ibrahim al-Jafari, as the head of largest faction in the Iraqi parliament and other friends, a strategic framework for comprehensive cooperation between Iran and Iraq can be set.
Al-Jafari, for his part, appreciated Salehi statement and said that Iraq, in spite of all potentials and wealth, now needs assistance from neighboring countries, especially Iran.
He added that the new Iraq was trying to present a new image of itself to the world in which all ethnic groups can play a role.
The Iraqi senior MP praised Iran's stance about forming new Iraqi government and described the role of both Foreign Ministries in developing ties as important.