Iran
Iraq
Middle East
Senior Lawmaker: Enemies Distressed by President Rouhani's Visit to Iraq
 A senior member of the Iranian parliament's National Security and Foreign Policy Commission said that President Hassan Rouhani's trip to Baghdad made the regional and trans-regional enemies worried and distressed.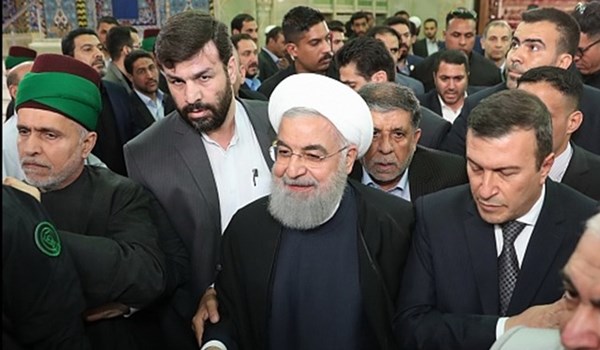 "The EU and the US were the main recepients of the message of President Rouhani's visit to Iraq in the current conditions," Hajar Chenarani told FNA on Thursday.
She added that the European countries are concerned about the fate of the 2015 nuclear deal after the visit because they are implementing the US policies against Iran with the help of the agreement.
"When the Islamic Republic of Iran finds the solution to its economic problems then there will be no need to the nuclear deal and given the fact that Iran and Iraq are expanding their contacts and Iran has put on agenda development of ties with neighbors, this issue is meaningful for the EU and even supporters of the nuclear deal," Chenarani said.
President Rouhani arrived in Iraq on Monday for a three-day visit in order to boost bilateral ties between the two neighbors amid US sanctions against the Islamic Republic.
Rouhani traveled to Baghdad to hold talks with Iraqi officials. A high-ranking delegation was accompanying the president.
Tehran and Baghdad signed 5 Memoranda of Understanding (MoU) to give momentum to the expansion of bilateral cooperation in various economic and healthcare sectors.
The documents were signed by senior officials of the two countries in the presence of President Rouhani and Iraqi Prime Minister Adel Abdul-Mahdi in Baghdad on Monday.
According to the documents, Tehran and Baghdad will improve cooperation in the fields of trade, healthcare and oil industry.
The two sides also agreed on the construction of a railroad link between the Iranian city of Shalamcheh and the Iraqi city of Basra as well as visa facilitation for investors and businessmen. According to the visa agreement, starting in early April 2019, the two countries will issue visas to each other's nationals free of charge.
Tehran and Baghdad signed another MoU to boost cooperation between Iran's Ministry of Industry, Mine and Trade and Iraq's Ministry of Trade.
The two countries also agreed to cooperate in all fields related to healthcare while another agreement pertained to cooperation between Iran's Ministry of Petroleum and its Iraqi counterpart.