Iran
Senior MP Cautions Baku about Israel's Divisive Plots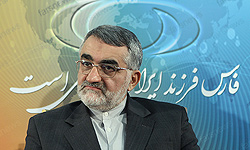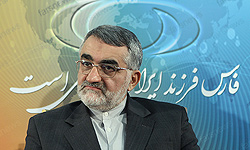 A senior Iranian legislator said that the accusations raised by Azeri officials against Iran is a scenario designed by the Zionist regime of Israel to sow discord between Iran and its neighboring states, and called on Baku officials to keep vigilant about Tel Aviv's plots.
"Since the time when Israel found a den in Azerbaijan, plotting and launching smear campaign against our country has been one of the agendas of the Zionists," Chairman of the parliament's National Security and Foreign Policy Commission Alaeddin Boroujerdi stated.
He pointed to the moves made against Iran in Azerbaijan in recent days, and said, "Like the previous scenarios designed by Zionists, the recent move is aimed at harming Iran's relations with neighbors."
Meantime, Boroujerdi dismisses the scenario as "cheap", and renewed Iran's firm stance on non-interference in the internal affairs of other countries.
On February 12, the Iranian Foreign Ministry summoned Azeri Ambassador to Tehran Javanshir Akhundov to protest at Baku for sheltering several Mossad-trained terrorists who had assassinated Iranian scientists.
The director-general of the Iranian foreign ministry's office for commonwealth and Caucasus affairs voiced strong objection to the presence and unrestricted activity of Mossad intelligence agents in Azerbaijan, who are involved in espionage activities against the Islamic Republic.
The Iranian Foreign Ministry also criticized the anti-Iran campaign on state-controlled Azeri news outlets and the degrading behavior of Azeri customs officials towards Iranian truck drivers.
The Azerbaijani ambassador expressed regret over the events, and said Tehran's message would be conveyed to Baku as soon as possible and that a response would be relayed to the Iranian Foreign Ministry.
The London Times reported on Saturday that Israel is using Azerbaijan, a small Eurasian country which shares a border with Iran, as a base to spy on the Tehran government.
The newspaper cited the testimony of an anonymous Mossad agent referred to only as Shimon.
"This is ground zero for intelligence work," Shimon told The Times. "Our presence here is quiet, but substantial. We have increased our presence in the past year, and it gets us very close to Iran. This (Azerbaijan) is a wonderfully porous country."
According to Shimon the Azerbaijan-Iran border, just a few hours south of the capital Baku, is prime territory for the Israeli intelligence service to gather information on Tehran's activities.
"There is a great deal of information there from people who regularly and freely travel across the borders. It is unregulated – almost," said Shimon.
Azerbaijan is a major energy producer, and exports oil to Israel and imports weapons and military hardware in return from the Jewish entity.
According to The Times, Israel has been able to capitalize on a decline in relations between Azerbaijan and Iran.