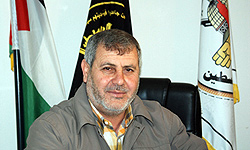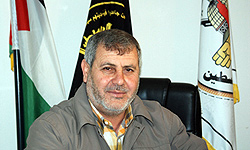 Palestinian Islamic Jihad Leader Khalid al-Batsh on Monday underlined Tehran's right to access peaceful nuclear energy, and lauded inauguration of Iran's first nuclear power plant in the southern city of Bushehr.
"Use of the nuclear energy is the inalienable right of the Muslim and noble nation of Iran, particularly when the energy is used for peaceful and civilian purposes," al-Batsh said in an interview with FNA in the city of Gaza.
He reminded the West's opposition to Iran's nuclear program, and said the western powers aim to make Iran an dependent country in a bid to dictate their will to the Iranian nation.
"The Islamic Republic of Iran is entitled to the right to implement this kind of plans and programs in a bid to serve its people and the entire mankind," the Islamic Jihad leader stressed.
Meantime, the Palestinian leader hailed inauguration of Iran's first nuclear power plant in Bushehr as a great success achieved through "the non-stop supports of Iran's Supreme Leader and continued efforts of Iranian scientists".
"This is undoubtedly an honor and glory for the great Iranian nation and all the Muslim and oppressed people of the world," he noted.
Iran is these days preparing to launch the operation of its Bushehr nuclear power plant. Iranian and Russian experts transferred nuclear fuel into the main building of Bushehr's reactor in a ceremony attended by senior Iranian and Russian nuclear officials on Saturday.
The first fuel injection process of Bushehr power plant involves 163 fuel complexes which are to be placed in the reactor complex and center of the reactor respectively.
Fuel required for the plant was delivered in 2007 and has been kept in a special depot monitored by the UN nuclear watchdog.
The fuel complexes are to be transferred to a pool in ten days and then to the center of the reactor after 10 more days to pave the way for necessary fuel inspections and launch of the Bushehr reactor.
The first nuclear plant in Iran, region and the Middle East will start operation when the fuel is sent to the center of the reactor.
Iranians will use nuclear-generated electricity two or three months after launching the Bushehr nuclear power plant.