Europe
Serbia announces 3 days of mourning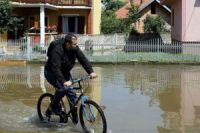 Serbia has announced three days of national mourning for the people killed in the heaviest rainfall in the Balkan regions since records began 120 years ago.
According to AFP, on Tuesday, Serbia's Prime Minister Aleksandar Vucic said, "We have been affected 10 times more than the other countries in the region, but I hope the toll would not show that."
Following days of heavy rainfall, causing rivers to burst their banks and triggering hundreds of landslides, at least 49 people died in Serbia, Bosnia and Croatia.
The damages caused so far by the floods are expected to reach hundreds of millions of euros.
The three days of mourning is to start from Wednesday.
Sarajevo also declared a day of mourning for Bosnia's 25 dead on Tuesday as thousands of volunteers struggled to reinforce dikes along the Sava river.
Heavy rains and swollen rivers have been surging into villages, towns and cities in the past few days in the Balkan Peninsula.
The flooding, triggered by torrential rains, forced the governments of Bosnia and Serbia to declare a state of emergency on May 15.