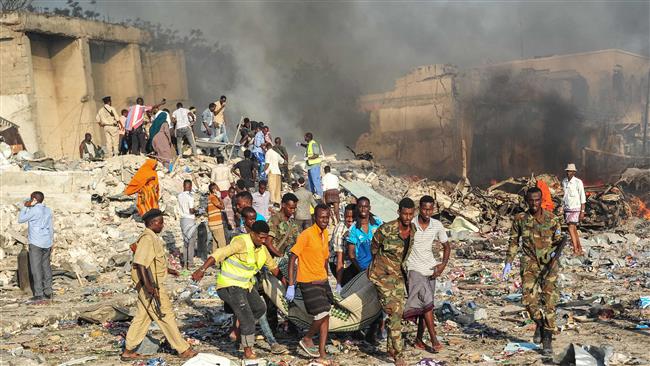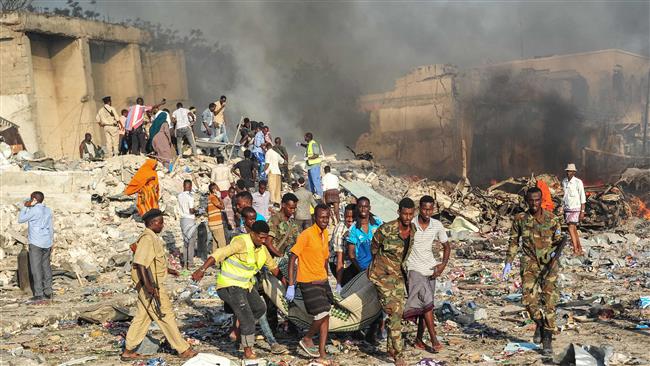 A powerful roadside bomb explosion has claimed the lives of at least seven people, mostly women, in an area outside the Somali capital, residents and the army say.  
The bombing hit a minibus in Daniga village, about 40 kilometers to the northwest of the capital Mogadishu, on Sunday. The region is dominated by the Takfiri al-Shabab militants.
"We heard a huge crash today and we went to the scene, we saw a ruined minibus and at least seven dead bodies, mostly women. We could not identify some people, they were just pieces of human flesh," Reuters quoted farmer Nur Abdullahi as saying.
"We are scared," Abdullahi said, adding, "Hundreds of masked militants are everywhere and we anticipate the government will attack here. They also planted mines everywhere and today we pack our clothes to flee."
Captain Isa Osman of the Somali National Army confirmed the bombing and said the death toll might be higher. "We know the minibus left Afgooye (town) this morning and it was carrying farmers, mostly women."
"It was carrying more than 10 people. We cannot get many details because the area is not controlled by government," the army officer added.
Last weekend, a truck bombing in Mogadishu killed nearly 360 people, with over 50 people still missing. Almost all of the dead were civilians. Somalia's President Mohamed Abdullahi Mohamed has vowed to step up the fight against al-Shabab following the truck bombing.
The Somali president vowed to step up the fight against the Al-Shabab Takfiri terrorist group.
Government forces have been battling al-Shabab since 2006. The militants controlled Mogadishu between 2007 and 2011, when they were driven out of the capital with help from African Union troops. A period of relative calm started in Mogadishu afterward. However, since last month, the group seems to have started to resume its attacks in the capital.
The extremist group is only one of the challenges facing the new Somali government, which is still struggling to expand its authority beyond the capital and other selected areas.