Iraq
Middle East
Seven Hashd Sha'abi mujaheds martyred in bomb attack in northern Iraq
At least seven fighters from the Iraqi pro-government Popular Mobilization Units (PMU) have lost their lives and several others sustained injuries when a massive bomb explosion struck their convoy in Iraq's north-central province of Salahuddin.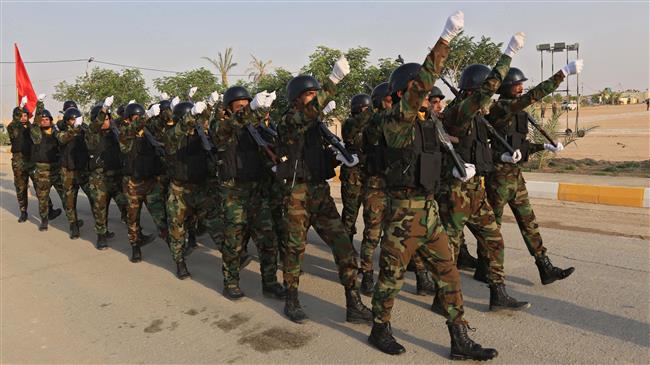 Safa Tamimi, spokesman for Saraya al-Salam (Peace Brigades) – a group operating under the umbrella of the voluntary forces better known by the Arabic name Hashd al-Sha'abi, told Arabic-language al-Sumaria television network that a bomber blew up a car rigged with explosives near the city of Samarra, situated 125 kilometers (78 miles) north of the capital Baghdad, on Thursday evening.
Tamimi added that the explosion resulted in the death of seven Hashd al-Sha'abi fighters and left three others wounded, noting that most of the fallen victims were residents of the city of Nasiriyah, which lies along the banks of the Euphrates River and is about 370 kilometers (225 miles) southeast of Baghdad.
There were no immediate claims of responsibility for the attack, but such assaults bear the hallmark of the Daesh Takfiri terrorist group.
Iraqi Prime Minister Adel Abdul-Mahdi stressed on November 5 last year that efforts were underway to find financial sources to support Hashd al-Sha'abi forces.
"Maintaining Hashd al-Sha'abi is one of our most important duties, and I strongly support its presence. There are those who are trying to say that Hashd al-Sha'abi is temporary, but I emphasize that such a force is a necessity," Abdul-Mahdi said.
Missiles hit Iraqi military complex housing US troops, six injuredSix Iraqi troops are injured when several rockets hit a military complex that also houses US forces near Baghdad airport.
"Even though it is not long since the government has been formed, I will do my utmost to grant Hashd al-Sha'abi full rights," he pointed out.
Hashd al-Sha'abi fighters have played a major role in the liberation of Daesh-held areas to the south, northeast and north of the Iraqi capital Baghdad, ever since the terrorists launched an offensive in the country, overrunning vast swathes in lightning attacks.
In November 2016, the Iraqi parliament voted to integrate Hashd al-Sha'abi, which was formed shortly after the emergence of Daesh, into the military.
Former Iraqi prime minister Haider al-Abadi declared the end of military operations against Daesh in the country on December 9, 2017.
On July 10 that year, he had formally declared victory over Daesh in Mosul, which served as the terrorists' main urban stronghold in Iraq.
Two rockets fall near Baghdad International Airport: Iraqi militaryThe Iraqi army says two Katyusha rockets have landed near the "outside perimeter" of Baghdad International Airport.
In the run-up to Mosul's liberation, Iraqi army soldiers and Hashd al-Sha'abi fighters had made sweeping gains against Daesh.
Iraqi forces took control of eastern Mosul in January 2017 after 100 days of fighting, and launched the battle in the west on February 19 last year.
Iraqi forces destroy Daesh tunnels in Kirkuk
Also on Thursday, Iraq's security media center announced in a statement that federal police forces, in cooperation with intelligence units and supported by unmanned aerial vehicles, had managed to destroy a number of tunnels dug by Daesh terrorists in al-Rashad district of the northern oil-rich province of Kirkuk.
Rocket hits Iraqi capital's Green Zone: ReportAt least one rocket strikes the heavily fortified Green Zone in the Iraqi capital city of Baghdad, a report says.
Iraqi federal police forces also purged four villages in Hawijah district of the same Iraqi province from the remnants of Daesh.
The Iraqi government forces managed to recover Katyusha rockets, mortar shells, cannon projectiles, artillery rounds and explosive devices from the terrorists.