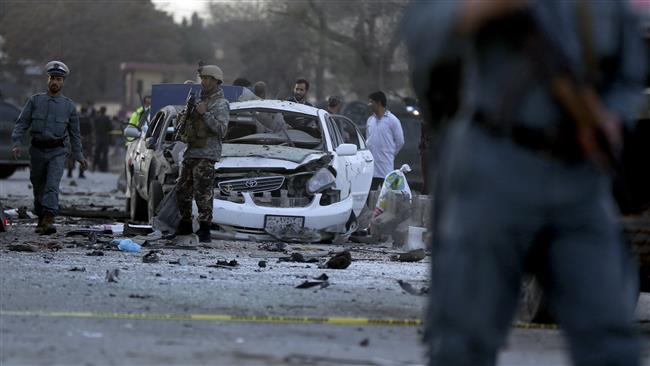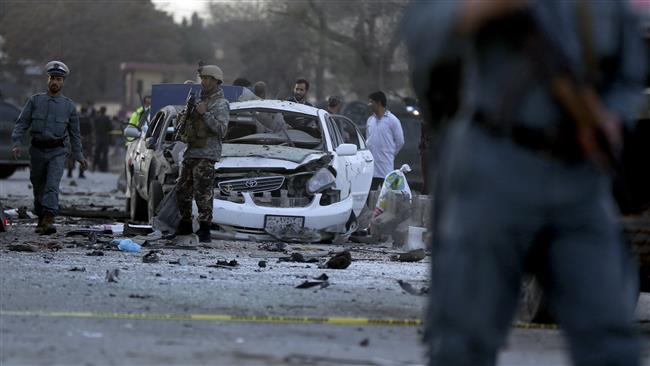 At least seven people have lost their lives in a car bomb attack in the Afghan capital city of Kabul.
"The initial reports from Kabul hospitals show seven killed and 22 wounded including women and children," AFP quoted Sayed Kabir Amiri, the head of hospitals in the capital, as saying on Wednesday.
The deadly attack took place near a police station in Muradkhani district close to the presidential palace, the Defense Ministry and the Ministry of Finance.
Afghanistan's security forces inspect the site of a bomb attack in Kabul, Afghanistan, Wednesday, March 25, 2015. ©AP
Sediq Sediqqi, a spokesman for the Interior Ministry verified the attack, saying it involved a "car full of explosives that detonated near Police District 2 headquarters."
No group or individual has claimed responsibility for the deadly attack, but such assaults bear the hallmarks of those made by Taliban militants. Afghan authorities have launched an investigation to determine the motive behind the act of violence.
A traffic policeman moves a damaged vehicle at the site of a car bomb attack in Kabul, Afghanistan, Wednesday, March 25, 2015. ©AP
Ataullah Khogyani, the spokesman for Maidan Wardak provincial governor, said on Tuesday that 13 civilians, among them a woman, were killed when a group of unknown armed men launched an attack on buses traveling from the capital, Kabul, towards Afghanistan's eastern province of Ghazni.
On March 17, armed men abducted six Shia Muslims from the Hazara ethnic community on a highway linking Afghanistan's western province of Farah to neighboring Herat Province.
An Afghan police man assists an injured man at the scene of a car bomb attack near a district police headquarters in the center of the Afghan capital, Kabul, on March 25, 2015. ©AFP
The United States and its allies invaded Afghanistan in 2001 as part of Washington's so-called war on terror. The offensive removed Taliban from power, but insecurity still remains in some provinces.
The US-led combat mission in Afghanistan ended on December 31, 2014. However, at least 13,500 foreign forces, mainly from the United States, have remained in the country in what Washington calls a support mission.
NATO says the forces will focus mainly on counterterrorism operations and training Afghan soldiers and policemen.