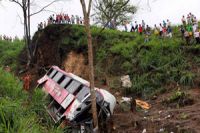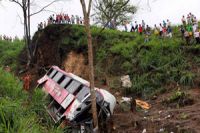 Police say 17 people returning from a wedding were killed after the truck they were riding fell into a gorge in northern India.
According to AFP, annother 28 people were injured in the accident late Sunday near Kaladungi, a town almost 400 kilometres northeast of New Delhi, according to police officer Dinesh Pant.
The driver lost control of the vehicle following a brake failure on a mountainous road in Uttarakhand state, Pant said on Monday. He was among those killed.
The bride and the groom survived as they were in another vehicle, he said.
India has the world's deadliest roads, with more than 110,000 people killed annually. Most crashes are blamed on reckless driving, poorly maintained roads and aging vehicles.