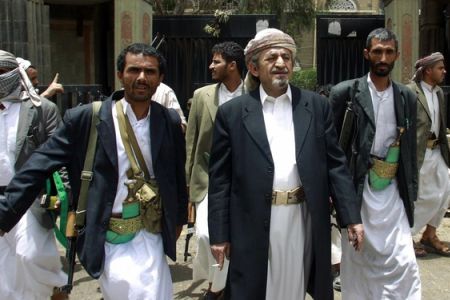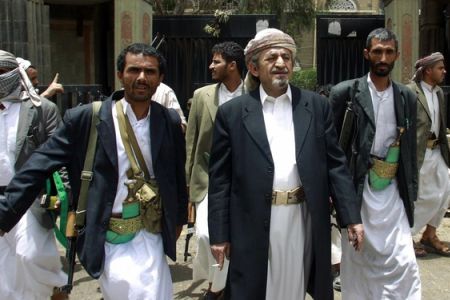 A truce between Yemeni forces loyal to embattled President Ali Abdullah Saleh and opposition tribesmen will come into effect on Sunday.
Tribal mediators said on Saturday that supporters of Sheikh Sadeq al-Ahmar, the leader of the powerful Hashid tribal federation, have agreed to leave public buildings in the capital's al-Hasaba neighborhood, Xinhua reported.
The edifices were occupied by the armed tribesmen during the conflicts to the mediators, who would later hand them over to the government.
The agreement also calls for an end to all forms of armed presence in the district, and requires Saleh loyalists not to attack Ahmar's residence again.
Despite the deal, sporadic gunfire could still be heard in the area late on Saturday, witnesses said.
Scores of tribesmen and regime forces have been killed in clashes that erupted on Monday, following Saleh's refusal to sign a power transition deal brokered by the [Persian] Gulf Cooperation Council.
Under the deal, Saleh would stand down within 30 days in return for amnesty for him and his allies.
Meanwhile, a senior tribal official has expressed doubts over Saleh's sincerity about keeping his promises, accusing regime forces of the overnight firing of shells that landed near Ahmar's residence.
Ahmar – a former supporter of Saleh- joined the opposition in March.
Ahmar has accused Saleh, who also comes from the Hashid tribe, of trying to spark a "civil war" in an attempt to remain in power.