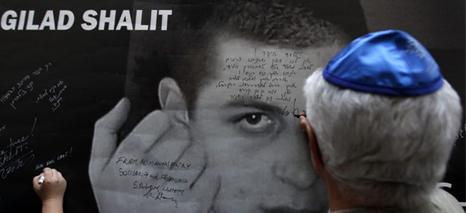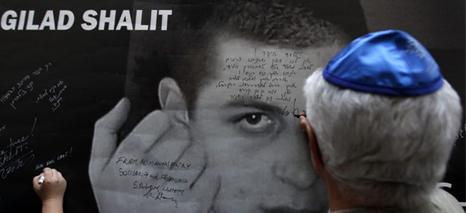 After 4 years of captivity, Palestinian resistance factions prove for Zionist enemy that they are able to keep Gilad in captivity for unbelievable period, 4 years of captivity.This successful military effort explains that Palestinian factions are qualified enough to keep more Zionist soldiers in captivity for a long time and even in a very small place- 360 km area.
In 25th of June 2006, three Palestinian resistance factions headed by Al Qassam Brigades , the Military wing of Hamas movement, carried out a qualitative operation crowned of capturing a Zionist soldier who was inside his tank along side Gaza borders with 48 territories.
Zionist soldier Gilad Shalit captured when he was centering inside his tank near Kerem Abu Salem military base, which is considered as starting point for waging bloody attacks against unarmed people of Gaza.
The operation caused of death of three Zionist soldiers, desrtying the targeted tank, and capturing of Zionist soldier Gilad Shalit.
By this operation, Palestrina factions broke the Zionist army word "unbeatable army" which collapsed in front of honest hits of Palestinian freedom fighters.
Dr Osama Hamdan, A member of the Political Bureau of the Hamas movement has argued the ability of keeping Shalit in captivity for a long time, for the Islamic faith the Mujahedeen(freedom fighters) have inside their hearts.
Al Qassam Brigades asserts that as long Zionist occupation hinders prisoner exchange deal, more price will be added to exchange deal bill.
Previously, Hamas signed a German proposal for achieving decent exchange deal , but Zionist arrogance obstructed the deal till this time.
It's important here to mention that Palestinian resistance factions did not capture Shalit to keep him in captivity, but for a meaningful objective which is releasing 11 thousand Palestinian prisoners.
Hamas military wing Ezzedeen Al Qassam Brigades who is responsible for capturing the Zionist soldier Gilad Shalit insists on its legal requests for releasing Palestinian prisoners especially those who had long term sentences.
Palestinian factions' legal demands for releasing Gilad Shalit are: releasing 1500 Palestinian prisoners, 450 prisoners who had long term sentences in addition to women and children.
Al Qassam brigades considers Shalit exchange deal as humanitarian issue, that's why they released a voice message for him to assert that the he is still alive and in a good case.
Later on, Al Qassam brigades released a new documentation video showing Shalit while he was reading a daily local newspaper in place of captivity.
Shalit who was wearing his military uniform, appeared in a very good health while he was smiling for the camera.
This humanitarian effort by Hamas, and it's military wing reflect the honest intentions for achieving an acceptable prisoner exchange deal with Zionist occupation with the help of German mediator.
Zionist government headed by Zionist Prime Minister Benjamin Netanyahu still delaying the exchange deal due to its hateful arrogance.
As Zionist government delaying prisoner exchange deal, Zionist Soldier Gilad Shalit may stay more than 4 years in captivity, if he does not change into Ron Arad 2.
Hamas and its military wing take in consideration Shalit's family efforts for releasing its captured military son, but at the same time Shalit's family should understand that 11 thousand Palestinian prisoners are still under Zionist captivity what allows resistance factions to capture more Zionist soldier to free those prisoners who are suffering from savage torturing in Zionist jails.
Hamas cares about Zionist soldier's life whose Zionist government tries to kill him at the time they get information about his place of captivity, this suspected behavior reflects the dishonest intentions by Zionist government headed by Netanyahu towards the case of Shalit.
Netanyhu considers Shalit as a headache for his government, so he will never waste any chance to kill him instead of releasing him peacefully in a decent exchange deal.
The price for releasing Zionist soldier Gilad Shalit is very known, it is the legal demands of Palestinian factions which are: releasing 1500 Palestinian prisoners including prisoners who had long term sentences, women and children and finally ending the unjust siege on Gaza.