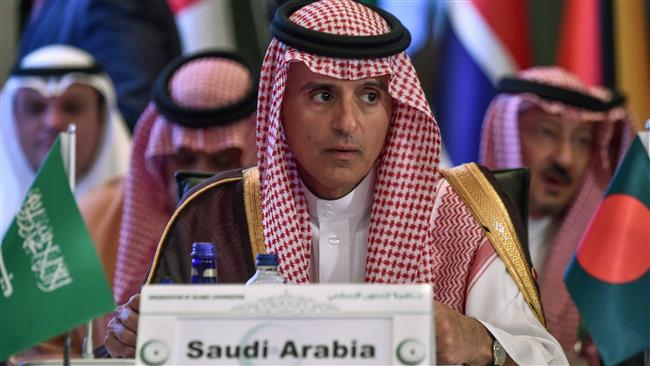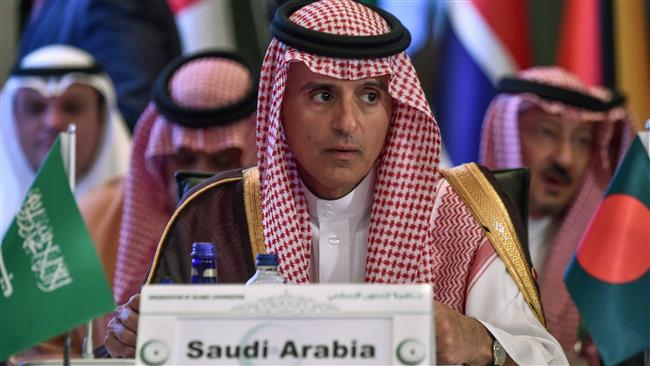 Saudi Foreign Minister Adel al-Jubeir has expressed his satisfaction with US President Donald Trump's hostile stance on Iran after he broke ranks with the world community and refused to certify Tehran's compliance with the 2015 nuclear pact.
Addressing the annual Chatham House conference in London on Tuesday, Jubeir claimed that the 2015 multilateral nuclear accord, called the Joint Comprehensive Plan of Action (JCPOA), had shortcomings.
During his October 13 speech, Trump refused to formally certify that Iran is complying with the JCPOA, although the International Atomic Energy Agency (IAEA) says it is. The US leader also warned that he might ultimately terminate it.
The US Congress now has until mid-December to decide whether to re-impose the economic sanctions on Tehran that were lifted under the deal.
The US president further authorized the Treasury Department to sanction Iran's Islamic Revolution Guards Corps (IRGC) and called on Washington's allies to join forces "in taking strong actions to curb Iran's continued dangerous and destabilizing behavior."
In his Tuesday remarks, Jubeir said, "(Iran's behavior) is not acceptable, and there will be consequences to the Iranians. This is what President Trump has said, and we are very supportive of that."
Jubeir also noted that he agreed with Trump that the Islamic Republic was working to destabilize the region, adding that new anti-Iran measures would be welcome.
"The international community needs to support those (sanctions) in order to send a very strong message to Iran that your behavior, your nefarious activities, have consequences," he pointed out.
Trump's anti-Iran speech drew strong criticism from the international community and other signatories to the deal.
However, the Riyadh regime, at the time, welcomed what it described as Trump's "resolute strategy" towards Iran, according to a statement carried by the state-run Saudi Press Agency (SPA).
The Iranian foreign minister condemned Trump's hostile rhetoric as "inane," stressing that using threats against the Iranian nation will prove ineffective.
"No wonder supporters of Trump's inane Iran speech are those bastions of democracy in the Persian Gulf: KSA, UAE & Bahrain," Mohammad Javad Zarif tweeted.
Saudi Arabia enjoys close ties with the US. Back in May, they inked a multi-billion arms deal at the height of the Saudi regime's deadly military campaign against Yemen.
Saudi Arabia has been widely viewed as a supporter of radical Wahhabism, the same ideology influencing the Takfiri terrorists wreaking havoc in the Middle East region and beyond.
Iran has been offering military advisory assistance to Syria and Iraq in their military campaigns against those Takfiri terrorists.