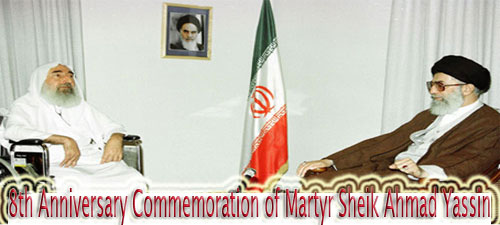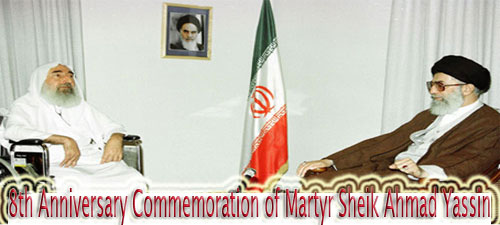 During Al-Aqsa intifada which broke out at the end of September 2000, Hamas movement participated, under the leadership of sheikh Ahmed Yaseen, effectively long string of the Palestinian resistance after rearranging her rows and establishing her military wing. The Zionist forces have been inciting world countries to put Hamas on the "blacklist" and freeze her funds, and that was done later after the EU submitted to American and Zionist pressures on Saturday (6-9-2003) and put the movement with her political wing on the "blacklist" organizations.
Due to the big difference in policy between Hamas and the Palestinian authority, PA used to press on Hamas. In this context, the PA imposed house arrest on Sheikh Ahmed Yaseen many times despite its admitting of his importance for Palestinian resistance and political life.
In addition to his total paralyzation, Sheikh Ahmed was suffering many diseases including blindness in his right eye after being beaten on it during the investigation, serious amblyopia in his left eye, chronic inflammation in ear, allergy in lungs, and intestinal inflammations.
On September 6th, 2003, the Zionist forces tried to assassinate Sheikh Ahmed Yaseen with the leader Ismail Haniyeh by bombing residential building where they were.
Tears of the Palestinians were shed abundantly on the martyrdom of Sheikh Ahmed Yaseen, the founder of Islamic resistance movement Hamas. Mosques mourned this hero whom she witnessed as a speechmaker and apostle calling people to resist the occupation.
That morning, Monday (22-3-2003), was totally different. The sky overclouded with heavy dark clouds rising from burnt wheels, and explosives sounds of the bombs that were made by the boys.
Thousands of Palestinians rushed from their sleep, couldn't believe the news of martyrdom of sheikh of the two intifada, as Hamas members used to call him. They gathered in front of dead coolers in Ash-Shifaa hospital in Gaza where Sheikh Ahmed lying.
Feeling were confused, youths crying, children exclaiming, mujahedeen swearing. On revenge, old men keep silent… all of this because Sheikh Ahmed passed away.