Sheikh Qaouk: Resistance A Strategic Necessity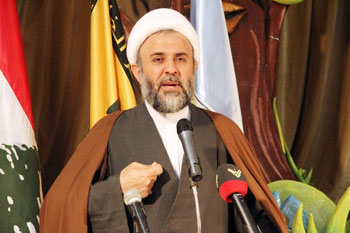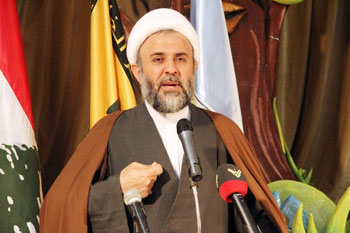 Hizbullah Deputy Executive Council Chief, His Eminence Sheikh Nabil Qaouk stated that, "All regional developments and "Israeli" threats reiterate that the resistance is an urgent strategic necessity and the only guarantee to liberate occupied lands.
"In a graduation ceremony in Taybeh, South Lebanon, Sheikh Qaouk saw that, "it is an honor that the resistance worries "Israel", sunk in the implications of [the resistance's ability to strike "Israel"] from Kiryat Shmona to Eilat."
He also underscored that the March 14 forces utmost conviction is that they relieve and joy "Israel".
His Eminence further indicated that, ""Israel", helpless in face of the resistance, observes both Syria and Lebanon's files, in a bid to weaken the resistance from the Syrian crisis and the Lebanese parliamentary elections."
"We address "Israel" and worldwide forces of evil that their bid on besieging the resistance through the Syrian crisis after twenty months only shows the resistance's success in further enhancing its military strength," he added.
Sheikh Qaouk further accentuated that, "March 14 forces were involved in the bloodshed in Syria," underscoring that, "this party bargains on monopolizing the government through its bid on the Syrian crisis."
Furthermore, His Eminence stressed that, "we respond to foreign threats and domestic provocations that they are more helpless than the "Israeli" tanks and aircrafts back in 2006."
Sheikh Qaouk reiterated the "adoption of an electoral law that is agreed [among all parties], since elections cannot be held in an ambiance that defies the will of more than half of the Lebanese people," emphasizing that, "they bid obstructing [the ratification] of a new electoral law through boycotting dialogue."
He further wondered if the country bears to hold elections based on the 1960s law that does not believe in true partnership.