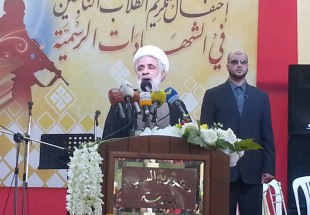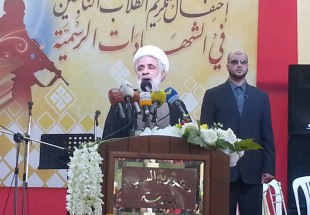 Hezbollah Deputy Secretary General Sheikh Naim Qassem hailed Hezbollah's achievements in the 2006 33-Day War against Israel stressing, "in the here and now, the Resistance Axis is in a leading position in Syria," Taqrib News Agency (TNA) quoted Rasa as saying.
Addressing a ceremony honouring students in the southern Lebanese village of Bint Jbayl, Sheikh Naim Qassem, the Deputy Secretary-General of Lebanon's Hezbollah Islamic Resistance group, referred to the current crises facing Lebanon and said that in order to chose a president, Lebanon must only turn to Michel Aoun, the head of the Change and Reform bloc.
The senior Hezbollah leader added that the powerful countries of the world and of the region, the United Nations Security Council and the Arab League cannot change the path to the election of Aoun as president as they tried for more than two years but did not achieve their goals.
He said that the delay over the election of a president has prolonged the challenges and disrupted public interest and added, "The Future Movement must stop being an obstacle in the election of a president because the solution is clear and in line with the interests of the country."
Sheikh Naim Qassem said: "If the selection of Aoun is the result of consensus, we will be ready to attend the parliament for this election. I hope it happens quickly because the election of a president is the cause of the dynamism of a government and parliament."
His Eminence said the discovery of a Takfiri terrorist network in Nabatiyeh, which was planning criminal acts in the Western Beqaa District and in the town of Zahleh, are welcomed and added that the discovery and disruption of this network will prevent the implementation of the enemies' great conspiracies against Lebanon and we offer our thanks and appreciation to all the security forces.
He said the victory of the Islamic Resistance [Hezbollah] in the 2006 33-Day War was a victory against the desires and will of the spiteful and this great victory established the steadfastness of the Resistance Axis against the "New Middle East" project.
Hujjat al-Islam Qasim said that Hezbollah defeated the previous equation in the Middle East wherein the region was placed under the authority of the United States, deterred the Zionist regime and destroyed the aggressive power of this regime.
"The victory of the Resistance in the most dangerous and most serious war against Lebanon, the persistence of the Resistance on the gateway to Syria and the revealing of the Israeli-Takfiri-Saudi relationship were among the lofty achievements of this war," he said.
In regard to the ceasefire in Syria, the Lebanese cleric said that it is a good time for the world to think and find a solution for the conflict in Syria, especially now that the Resistance Axis is in a leading position in Syria, a fact that the US Secretary of State, John Kerry, has acknowledged.