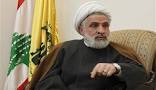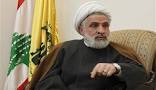 Hezbollah Deputy Secretary General Sheikh Naim Qassem said on Monday that that visit of the United Nations Secretary General Ban Ki-moon to the Middle East is not innocent, asserting that Hezbollah rejects naturalizing the Syrian and Palestinian refugees in Lebanon.
Sheikh Qassem added that the US and the European states aim at making Lebanon a permanent resort for the displaced as long as the Syrian crisis lasts.
His eminence added that liberating Palmyra is major blow to the terrorists group of ISIL and all who support it, pointing out that the US has lost hope to change the political formula in Syria.
Sheikh Qassem deemed that KSA is carrying out terrorism in Iraq, Syria, Yemen and Lebanon, adding that the Saudi leaders turned mad after their grave losses in the entire region.
Hezbollah official eliminated the possibility of any Israeli war against Lebanon, confirming the readiness of the resistance to confront any Zionist escalation.
Sheikh Qassem reckoned that the importance of Palestinian Intifada is that it keeps the Zionists worried about their destiny.
On Iraq, his eminence said that the US will fail to prevent the Popular Mobilization Forces from participating in liberating Mosul.
Sheikh Qassem considered that the peaceful revolution in Bahrain is sustainable, noting that the Saudis have caused the deadlock in that country.