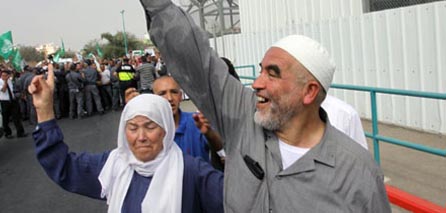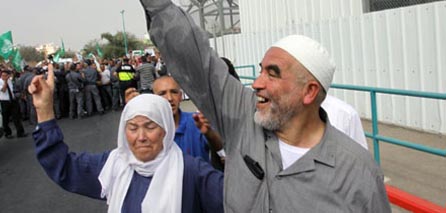 In a press conference today Sunday July 25, near Ayalon prison and before handing himself in to serve five months actual imprisonment , Sheikh Raed Salah- head of the Islamic movement inside the Green Line area (GLA) warned of a regional war in the Middle East that could develop to a third world war, aimed to demolish Al-Aqsa Mosque. The Sheikh pointed out that we are in the second half of the year 2010, which was described by him as decisive for the fate of the Aqsa mosque; therefore he did not rule out the possibility that the Israeli establishment impose a division plan over the Al-Aqsa Mosque.
The Sheikh conveyed a message to all the honest people about the need to protect Al Aqsa Mosque from all schemes being hatched against Al Aqsa Mosque. The Sheikh explained that the key issue is Jerusalem, considering his imprisonment as incidental and marginal.
Sheikh Salah called upon the Islamic and Arab nations to protect the Aqsa mosque from the coming Israeli schemes, on top of it a regional war that will be exploited to wipe the Aqsa mosque out of the map. The Sheikh Also sent a message to the Israeli Establishment, by hinting that he does not stand on the threshold of the prison, but rather standing on the threshold of the demise of the Israeli occupation.
Sheikh Raed was accused by the court of assaulting an Israeli soldier in clashes between Muslim worshippers defending the Aqsa Mosque and the fully-geared Israeli occupation soldiers who attempted to storm the Mosque in 2007.
The Islamic Movement inside the GLA, which Salah heads, deprecated the decision, adding that the decision against their "Sheikh" won't stop them from defending the Mosque against any Israeli attempt to defile it.
"We don't fear prisons, but if you (Israelis) think that by jailing Sheikh Salah you would prevent us from defending the Aqsa at all cost then you are dreaming", the Movement asserted in a statement it issued in reaction to the court's decision.
In the aftermath of the clashes in 2007, Sehikh Salah and a number of his comrades in the Movement, including Dr. Suleiman Eghbareyya among others were rounded up by the Israeli police and put on swift trial before issuing a number of arbitrary verdicts against Salah, including banning him from entering the Aqsa Mosque, staying 150 meters away from the old City of Jerusalem, and banning him from meeting with more than six persons in public.
It is note worthy to mention that the press conference were attended by hundreds of members of the Islamic movement, along with Mr. Mohamed Zidan – Chairman of the Higher Follow- up Committee for Arab masses inside the GLA; leading figures from inside the GLA, dignitaries from Jerusalem and a delegation from the occupied Golan Heights.