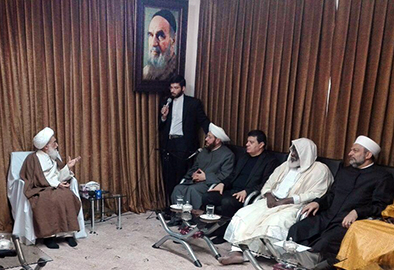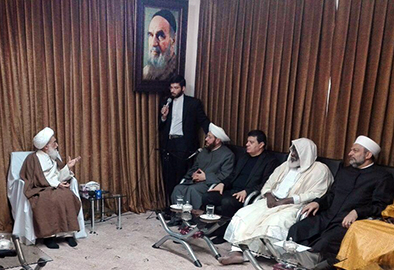 We are strongly united against the [world] arrogance, said Grand Ayatollah Hossein Noori-Hamedani in a meeting with Grand Mufti of Syria Sheikh Ahmad Badreddin Hassoun in Qom.
"[Late] Imam Khomeini was [a] universal [character], and the development he brought about was global, as well. After the world arrogance united, late Imam Khomeini, for the sake of Allah, stood against the arrogance and Zionists and Allah helped him to succeed," said Ayatollah Noor-Hamedani.
"When the dominance-seekers found out that other countries are choosing Imam Khomeini as their role model and would rebel against the Arrogance, they didn't stay silent; thus, we need to be more alert and resistant."
"As long as the Zionists exist in the region, trouble exists too," he said. "We need to unite and annihilate 'the cancerous gland,'" he added.
Ayatollah Noori-Hamedani said that the Islamic World is in power and esteem, 'but as the Supreme Leader Ayatollah Seyyed Ali Khamenei said we need to be careful."
Sheikh Hassoun said, "Iran stayed by us and fought terrorism, while over 100 countries attacked us from all directions; we defeated them."
The grand mufti of Syria also said that when the Islamic Revolution took place in Iran, the enemy wanted to extinguish its light, so as the Revolution wouldn't remain in the Islamic World.
'They bribed Saddam Hussein into it; but when they told late Hafiz Assad to stay away from [Imam] Khomeini so that they would turn Syria into a paradise, he told them, Syria is with [Imam] Khomeini not only as an individual, but also to send the message that [Imam] Khomeini doesn't belong only to Iran."
The Revolution you are the standard-bearer is spreading light all over the world; Imam Khamenei's message, saying that Shias and Sunnis are in the same line, had a great impact on the Muslim World. The victory is overt in Syria, said Sheikh Hassoun.