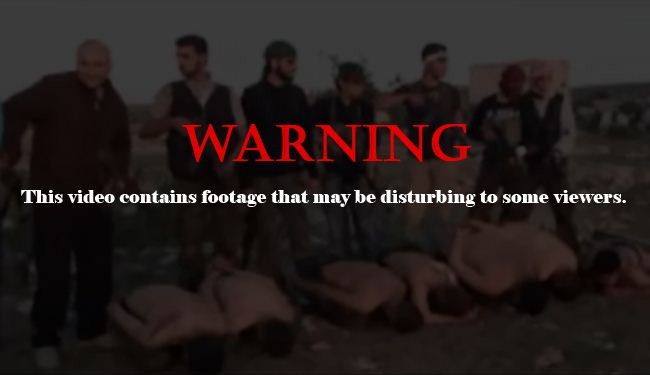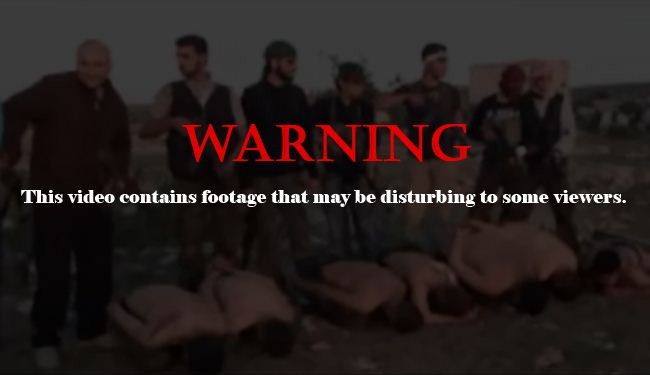 A shocking video has emerged of militants in Syria, brutally executing seven Syrian soldiers. http://en.alalam.ir/news/1514248
The soldiers are stripped, bound and pushed to the ground where a number of rebels stand over them pointing guns at their bodies. Some bear vicious injuries on their backs and arms.
The horrific scene filmed in April 2012 was documented in a video smuggled out of Syria only a few days ago by a former rebel who says he had become horrified by the brutality of the tactics his one-time comrades are using. He gave the footage to The New York Times.
It has emerged as G20 leaders meet in Russia to debate the dire situation in the war-torn country and will add fuel to the view that the rest of the world cannot actively support rebels who are carrying out atrocities equally as brutal as the troops deployed by President Assad.
Issa is known as 'the uncle' because two of his deputies are his nephews.
Issa requested the execution be filmed so he could show it to donors to help secure more funding.
At the end of the footage, the bodies of the soldiers are dumped in a well while one of the gunmen
looks into the camera and smiles.
The ruthless crime, which is one of the most common features of the foreign-sponsored extensive insurgency in Syria, comes as the US is planning to bomb Syrian army bases to change the balance of the war in favor of the anti-Syria militants.
Washington dispatched its warships toward Syria based on conflicting reports of an alleged chemical attack on August 21.
The US has blamed the attack on Syrian army but Damascus has vehemently denied the accusations, saying the attack was carried out by the militants themselves as a false-flag operation.
http://en.alalam.ir/news/1514248