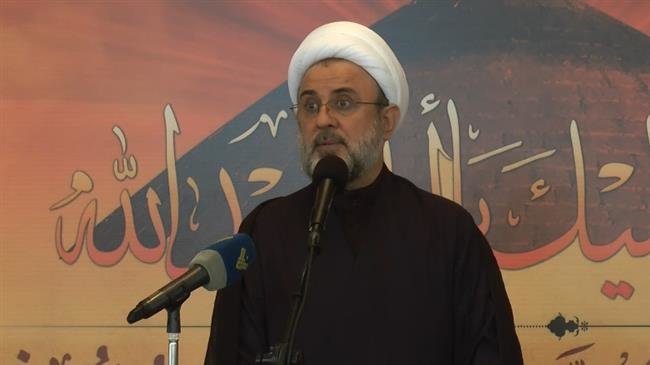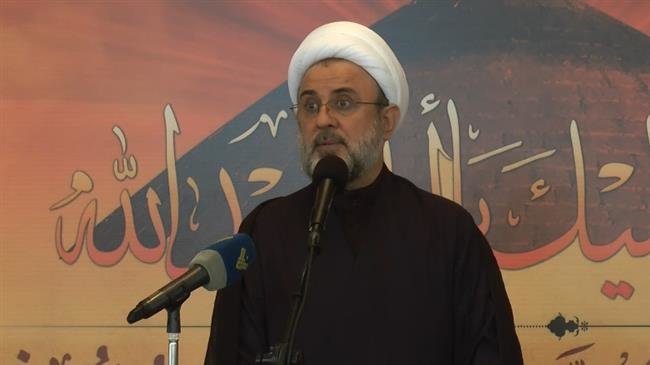 A top official of the Lebanese Hezbollah resistance movement says the awkward silence of the United States and Europe on the ongoing Saudi-led massacres in Yemen definitively proves their hypocrisy, stating that Washington is being paid huge sums of money by the Riyadh regime to cover up its crimes.
"Saudi Arabia can buy US President Donald Trump, the US Congress, the Security Council and major powers with its petrodollars, but cannot win the support of defenseless and honorable Yemeni nation or Hezbollah's silence. That is why they tend to punish the Lebanese resistance movement through placing it on terrorist lists and adopting economic sanctions against it," Sheikh Nabil Qaouk, deputy chief of Hezbollah's executive council, said on Sunday.
Saudi Arabia and a number of its regional allies launched a devastating military campaign against Yemen in March 2015, with the aim of bringing the government of resigned president, Abd Rabbuh Mansur Hadi, back to power and crushing the country's popular Houthi Ansarullah movement.
The Legal Center for Rights and Developments in Yemen, in a statement released on October 15, announced that the ongoing Saudi-led military campaign against the impoverished and conflict-plagued Arab country has resulted in the death of 15,185 civilians, including 3,527 children and 2,277 women.
A total of 23,822 civilians, among them 3,526 children and 2,587 women, have also sustained injuries, and are currently suffering from the lack of medicine, medical supplies and poor treatment due to the crippling Saudi siege.
Elsewhere in his remarks, Qaouk said, "Political developments as well as changes on the ground in Syria, Iraq, Yemen and the Middle East region confirm the victory of the anti-Israel resistance front. In Syria, all efforts to topple the incumbent government have failed. Syria is still a solid fortress at the core of the resistance front. Its victory will boost the strength of the resistance front against Israel's acts of aggression."
"Hezbollah resistance movement scored another victory when it managed to beef up its advanced missile capabilities – a move that worried Israel and filled its officials with terror. Therefore, Israelis no longer trust (Prime Minister Benjamin) Netanyahu's assurances, because they have discovered that such comments are sheer lies," he noted.
"The enemies of Hezbollah want to impose new financial, political and economic sanctions on it as part of efforts to compensate for their defeats throughout the region. This is not something new to the resistance movement and its supporters. Since 1982, the resistance has been targeted by sanctions. It has, however, succeeded to overcome the toughest challenges. American sanctions will not progress. Currently, Hezbollah offers the image of a strong Lebanon, which is capable of facing Israeli challenges and threats," the high-ranking Hezbollah official commented.