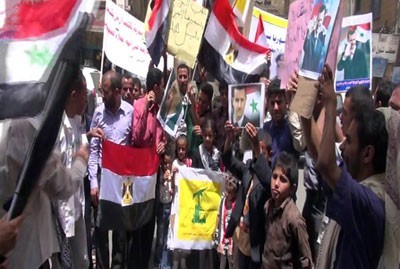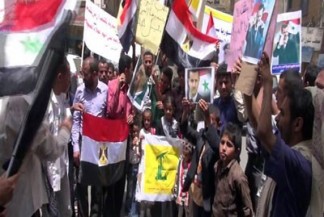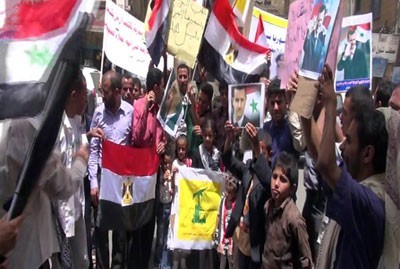 The Yemeni youth initiative on Sunday organized a sit-in in solidarity with the Syrian people, leadership and army in the face of the plot targeting the country in the city of Ibb.
The participants stressed that Syria will remain the firm fortress in the face of the imperialist and Zionist forces, reiterating their supporting to the Syrian army in the battle with the Wahabi and takfiri groups.
They highlighted that the victory of Syria is imminent, adding that the U.S.-Israeli scheme is to be defeated by Syria's army and wise leadership.
Al-Baath Arab Socialist Party in Yemen Supports Syria
Al-Baath Arab Socialist Party Branch in Yemen expressed support to the Syrian leadership, people and army in the face of the conspiracy hatched against Syria.
In a statement issued following a meeting in Dhamar province in Yemen, the Party stressed that Syria is exposed to an unfair global war led by the international Zionism and colonial countries and their Arab tools in the region under a Zionist political ideologies backed by money and weapons to destroy the state infrastructure, weaken the army and to undermine the Pan-Arab project of the Arab nation.
The statement pointed out that the Israeli latest aggression on the Syrian sites is a big proof on the Zionist's involvement in supporting the armed terrorist groups.
The party called on the Arab countries to shoulder their responsibilities towards what is going on in Syria and not to drift behind the Zio-American scheme aiming at fragmenting the whole region.