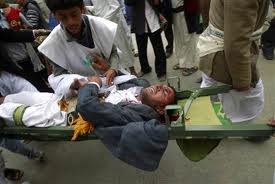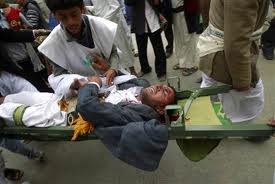 At least six people have been killed and 20 others wounded in Sana'a as the Yemeni capital city is rocked by fresh anti-regime protests.
Five people were killed and four others injured when forces loyal to President Ali Abdullah Saleh exchanged fire with defected military soldiers near Sana'a University on Tuesday, AFP quoted security and military sources as saying.
A source with the army's First Division which has sided with anti-government protesters said that two dissident soldiers were among the dead.
Meanwhile, a Press TV correspondent in the Yemeni capital said one person was shot to death on Tuesday and 16 others were injured after plain-clothes government forces opened fire on a group of young protesters.
The protesters reportedly planned to march out of Change Square in Sana'a, where they have been staging protests for the last two months.
The Yemeni protesters demand the ouster of decades-long ruler Saleh.
Since late January, Yemen has been witnessing daily anti-government rallies — inspired by the protests in Tunisia and Egypt — which demand economic and political reforms.
Despite daily anti-government rallies, Saleh says he plans to remain in office until the end of this year.
Hundreds of thousands of people have turned out for regular demonstrations in cities including Sana'a, Aden, Taiz, calling for corruption and unemployment to be tackled and demanding President Ali Abdullah Saleh step down.
Some 40% of the population live on $2 a day or less in the country, and a third face food shortages.
The protests have been met by riot police or supporters of President Saleh armed with knives and batons.
Saleh has said he will not seek another term in office in 2013 but has vowed to defend his regime "with every drop of blood".
The death toll in the country has surpassed 300 since anti-government protests began in late January.