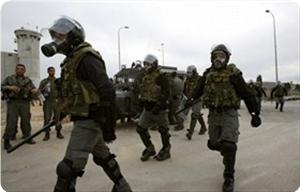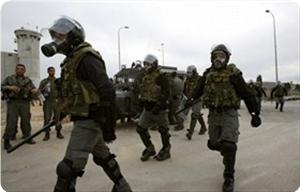 Zionist Israeli prison guards savagely stormed section 14 of Nafha desert prison at dawn Monday, the Palestinian Prisoners' Center for Studies said.
The center said that the raid had been the largest in Nafha prison for the past several months, as all the 120 prisoners were moved out of section 14 and transferred to very hot and small rooms, after being thoroughly searched.
The Israeli special units stormed and searched all the section's cells, spoiling and confiscating the captives' personal belongings and foods, the center underlined.
The center added that this raid is one of the Israeli occupation's techniques to harass the prisoners in the month of Ramadan, as the campaigns of searches and raids continue for long hours.
It also warned of the aggravation of the prisoners' suffering due to the occupation's arbitrary and repressive policies against them, amid a total neglect to the agreement signed with the prisoners' leadership after the last hunger strike.
The center also pointed to the escalation of the policy of medical neglect against patient prisoners, which resulted in serious deterioration in their health condition.
Thus it called for an urgent international action to protect the prisoners from the occupation crimes, and for sending fact-finding committees to check the bad conditions of captives in the Israeli jails.