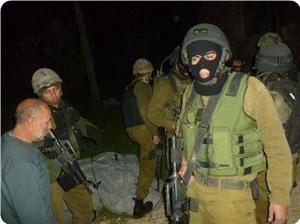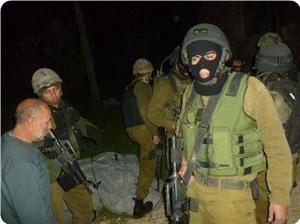 Slaughterer IOF troops arrested at down on Thursday, 16 Palestinians in the occupied West Bank and Gaza Strip.
Local sources in West Bank said that Slaughterer Israeli Occupation Forces have stormed Al-Khalil and Ramallah and Jenin, where they carried out search and raid campaigns that affected dozens of homes before arresting several citizens.
In the same context, the Israeli Navy arrested, on Wednesday evening, six Palestinian fishermen at sea north of Gaza, and seized their boats while they were fishing.
Quds Press quated Nizar Ayash, the head of Palestinian Fishermen Union, as saying "Israeli Navy gunboats intercepted on Wednesday evening, three fishing boats where they arrested six Palestinian fishermen were engaged in the fishing ,opposite Beit Lahia seashore in the northern Gaza."
He added that, after the Israeli interception of the boats, the Israeli Marines took these boats and the fishermen at gunpoint to the port of Ashdod in 1948 occupied territories.
He condemned the Zionist aggressions against the Palestinian fishermen, calling on the international community to intervene to stop these attacks, where the Israeli occupation prevents Palestinian fishermen from sailing more than three nautical miles for fishing.