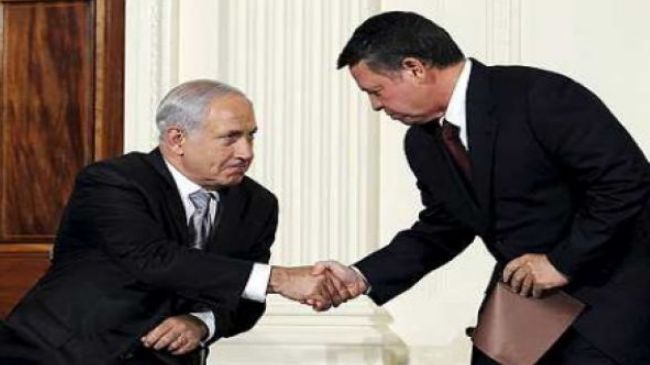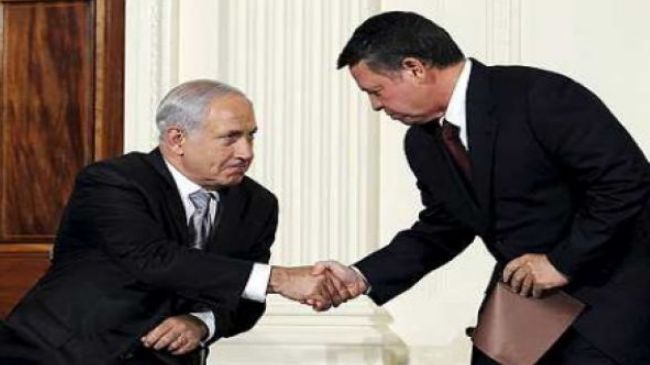 Israeli Prime Minister Benjamin Netanyahu and Jordan's King Abdullah II have reportedly held a secret meeting in Jordan on the so-called Middle East peace process.
"Last week, Netanyahu travelled to Jordan and met King Abdullah II" and they "discussed the Middle East peace process," a diplomatic source told AFP on the condition of anonymity on Saturday.
Netanyahu and King Abdullah II also had met in December in Jordan where they held talks on Syria unrest.
The development comes as the talks between the Israelis and the Palestinian Authority officials have been stalled since September 2010 over Tel Aviv's illegal settlement activities.
The Palestinians demand that Israel stop settlement activities in the occupied West Bank and East al-Quds (Jerusalem) before the resumption of negotiations, but Israel rejects any preconditions for talks.
The Tel Aviv regime has increased its illegal settlement expansion following an upgrade of Palestine's status at the UN to a non-member observer state on November 29, 2012.
The Israeli regime plans to build more than 5,000 new settler units in East al-Quds despite objections from the international community.
More than half a million Israelis live in over 120 settlements built since the 1967 Israeli occupation of the West Bank and East al-Quds. Much of the international community considers the settlements illegal.
In January, the United Nations called on the Israeli regime to cease all its settlement activities without preconditions in compliance with article 49 of the Fourth Geneva Convention. However, Tel Aviv has remained defiant.
On December 19, 2012, UN Secretary General Ban Ki-moon warned that Tel Aviv's continued settlement activities in the occupied Palestinian territories could inflict "an almost fatal blow" to future talks between Palestinians and Israelis.
– See more at: http://www.presstv.com/detail/2013/03/03/291653/netanyahu-jordan-king-in-secret-talks/#sthash.FklBCPl3.dpuf