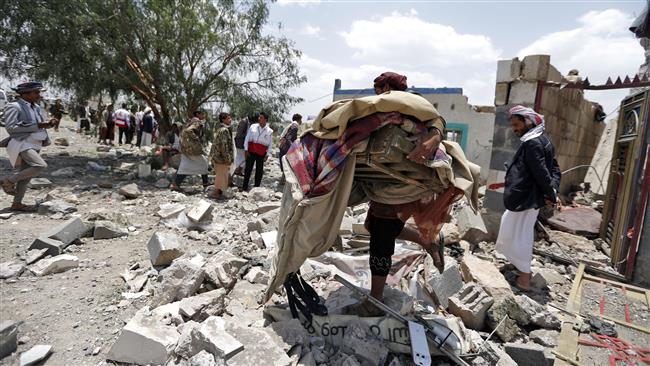 Saudi Arabian fighter jets have pounded a neighborhood in the Yemeni capital of Sana'a, massacring 14 people, including women and children.
The Friday bombing hit residential buildings in the Faj Attan neighborhood of Sana'a, Yemen's al-Masirah television network reported.
It said the fatalities include two women and six children, adding that the strike targeted two residences.
The network had earlier put the death toll at five, saying search operations were underway for other potential casualties.
Riyadh's warplanes have in recent days stepped up the bombardment of Sana'a, which is controlled by the Houthi Ansarullah movement.
The fresh carnage came days after at least 60 people were killed in Saudi airstrikes that hit a hotel north of Sana'a on Wednesday.
Witnesses said the hotel in the Bait al Edhari area of Arhab District north of the city was hit with two missiles. The collision of the projectiles with the structure shattered its roof, leaving at least two bodies dangling from the building.
Saudi-led forces, however, said they had attacked a legitimate military target in the area.
On Thursday, hundreds of thousands of people flooded the streets of Sana'a to condemn Riyadh's bloodshed.
The United Nations is investigating the assault.
UN Secretary-General Antonio Guterres' spokesman Stephane Dujarric reacted to the incident, saying, "What is clear is that any attack on civilians is unacceptable. This is a message we have often repeated, and we will continue to repeat."
Saudi Arabia and its allies began the military campaign against Yemen in March 2015 to restore its former Riyadh-allied authorities. Over two years on, more than 12,000 people have perished and the good part of the country's infrastructure blown to smithereens.
Ansarullah has been running state affairs since 2014, when the then president Abd Rabbuh Mansur Hadi resigned and fled to Riyadh. Backed by army troops and popular forces, the movement has also been defending the nation against Saudi aggression.
The Saudi-led coalition has been under fire for failing to protect the civilians in Yemen. Activists and international rights groups have urged Western states, particularly the US and Britain, to stop their military support for the alliance.