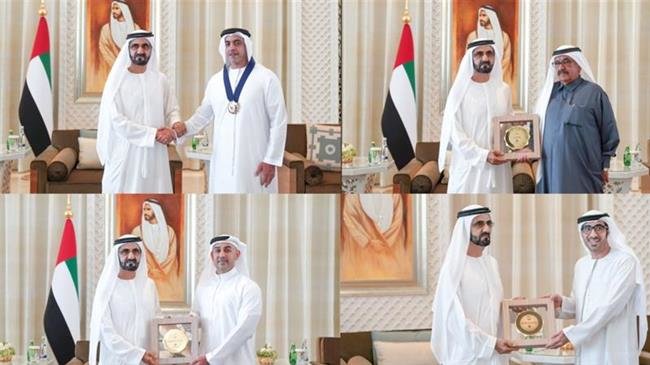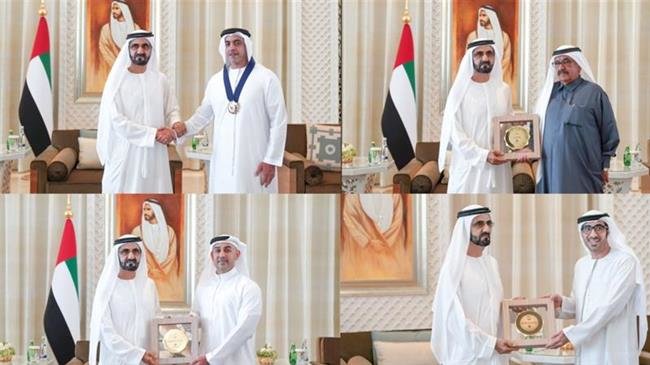 Online social media users have poked fun at authorities in the United Arab Emirates (UAE) after it emerged that winners of its 2018 "Gender Balance Index" awards were entirely men.
At an awards ceremony on Sunday, the UAE named the winners of the awards designed to display Abu Dhabi's "commitment" to female empowerment and foster gender equality in government departments.
Sheikh Mohammed bin Rashid Al Maktoum, vice president of the UAE and ruler of Dubai gave out the medals and certificates, the recipients of which were all male.
The awardees included the UAE's deputy prime minister and minister of interior, Sheikh Saif bin Zayed Al Nahyan, who was recognized for "best personality supporting gender balance."
Other winners included Dubai's deputy ruler and Finance Minister Sheikh Hamdan bin Rashid Al Maktoum, Minister of Human Resources and Emiratization Nasser bin Thani al-Hamli and the Federal Competitiveness and Statistics Authority Director General Abdulla Nasser Lootah.
The ceremony's photos, shared on Twitter on January 27 by the Dubai Media Office, immediately went viral, drawing widespread criticism and mockery from Twitter users.
One Twitters user made fun of Emirati officials for having forgotten to invite women to the event:
According to a news release by the Dubai media office, Al Maktoum praised "the success of Emirati women," saying their role was "central to shaping the future of the country."
"Gender balance has become a pillar in our governmental institutions," he said.
"Is the sarcasm translating correctly?" one Twitter user asked, while another said the situation was "beyond parody" and others asked whether the account had been hacked by satirical news site The Onion.
"How to make yourselves a laughing stock in the eyes of the world…… well done Dubai," another Twitter user wrote.
This comes as just months after a damming 2018 Office of the UN High Commissioner for Human Rights report painted a grim picture of the human rights situation in the UAE, raising concern over the torture of prisoners, injustice against foreign workers and discrimination of women in the Persian Gulf state.
Human Rights Watch blasts the United Arab Emirates for suppressing dissent at home and committing war crimes abroad.
In its 2018 report, the UN body voiced concern that it was still possible for a man to prohibit his wife from working and to limit her freedom of movement.