World News
Socialist revolution already in progress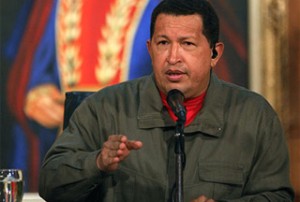 Venezuela's President Hugo Chavez has claimed that his brand of socialism would solve all problems in Latin America, calling on the world to recognize it.
Chavez, who attended the premiere of Oliver Stone's new documentary South of the Border in New York on Wednesday night, used his time at the UN General Assembly to publicize what he called the rise of socialism in Latin America.
South of the Border is a documentary focused on Chavez. Tariq Ali, the writer of the documentary, has described it as a "a political road movie."
"South of the Border is a revolution underway in South America, Latin America and the Caribbean," Chavez said. "The world must come to see it, accept it as a fact of life."
Chavez said the revolution in Latin America would solve the problems of capitalism and wars in other regions of the world.
He also praised the US President Barack Obama, saying he brought hope to the world.
"It does not smell [like] sulphur anymore, it smells [like] hope," Chavez said.
Chavez charged former US president George W. Bush of smelling of sulphur after he stood at the assembly podium to deliver his speech in 2006. Chavez stepped up to the same podium right after Bush to criticize his policy in Latin America.
"God should protect Obama from the bullets that killed [former US president John F.] Kennedy," Chavez said.