Palestine
Solidarity events with al-Qeiq organized in al-Khalil, Nablus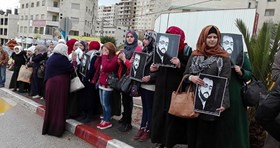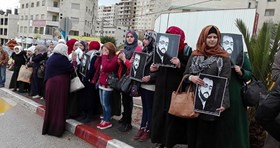 Two separate solidarity events have been organized in Nablus and al-Khalil in support of the Palestinian journalist Mohamed al-Qeiq who has been on hunger strike for 75 days. In al-Khalil, the Palestinian Prisoners Society (PPS) and the Palestinian Committee for Prisoners and Ex-prisoners organized Sunday afternoon a protest sit-in outside the Red Cross Headquarters in the city in solidarity with al-Qeiq.
National and Islamic figures and human rights activists have also participated in the event. During the sit-in, the PPS director Osama Shahin called for increasing the solidarity events in all occupied Palestinian lands till al-Qeiq's release. The leader in People's Party Fahmi Shahin, for his part, stressed the importance of an international intervention to save al-Qeiq's life before it is too late.
In Nablus, dozens of Palestinian students organized a sit-in at the entrance to al-Najah University in support of the journalist Mohamed al-Qeiq. During the event, the university students held photos of al-Qeiq  and chanted slogans in protest against administrative detention policy. Meanwhile, the Palestinian icon Khader Adnan has declared an open hunger strike in support of al-Qeiq. Hunger-striking Palestinian prisoner Muhammad al-Qeiq has earlier rejected an offer by an Israeli military court to be released on May 1 and demanded an immediate end to his administrative detention.