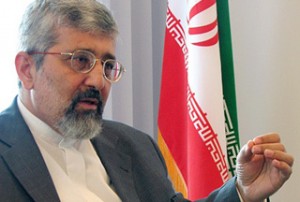 Iran's Ambassador to the International Atomic Energy Agency (IAEA) Ali Asghar Soltanieh says Iran reserves the right to enrich uranium to 20 percent at the Natanz enrichment facility.
"Iran has the right to enrich uranium to 20 percent to provide fuel for the Tehran research reactor," Soltanieh said in an interview with the Al-Alam News Network on Wednesday.
The Iranian official underlined that any confrontation with Iran over its nuclear issue would not be in the interest of anyone.
"Iran sent a letter to former IAEA Director General Mohamed ElBaradei in June 2009 and, in line the IAEA statutes, asked him to provide Iran with the nuclear fuel needed for the Tehran research reactor," he explained.
According to Soltanieh, it took the IAEA some time before replying that they are ready to do so but have certain conditions.
"We informed them in our letter that we would enrich uranium to 20 percent in order to obtain the required fuel for the Tehran research reactor and cancer patients," he asserted.
"We are not concerned about some people being against the 20 percent uranium enrichment, because our work is legal," he added.
Iranian President Mahmoud Ahmadinejad on Tuesday tasked the Atomic Energy Organization of Iran with enriching uranium to 20 percent in order to provide fuel for the research reactor, which produces medical isotopes for cancer patients and is soon to run out of fuel.
Upon the president's order, Iran began enriching uranium to a level of 20 percent at its Natanz enrichment facility under the surveillance of inspectors from the UN nuclear watchdog.
A proposal backed by the IAEA wants Tehran to send most of its domestically-produced low enriched uranium abroad for further enrichment.
Tehran has called for the swap deal to take place on its own soil, arguing that if it ships the bulk of its enriched uranium, there will be no guarantee that the fuel would eventually find its way back to the country.
The US, however, insists that the deal would see no amendments, asking Iran to accept it in its original form.