Africa
Somali government forces have gained control of a key southern town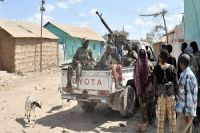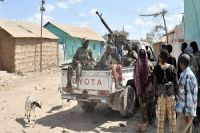 Somali government forces have gained control of a key southern town, making progress toward a major stronghold of al-Shabab fighters.
According to Press TV, government troops, backed by the African Union mission in Somalia (AMISOM), finally gained control of Qoryooley on Saturday, after a heavy battle outside the town in lower Shabele region.
Hundreds of local residents fled the area to avoid being caught in the crossfire.
The troops are now closing in on the al-Shabab coastal bastion of Barawe.
The town is located between the Somali capital, Mogadishu, and the southern port city of Kismayo, which is controlled by Kenyan AMISOM troops.
The joint Somali and AU forces have launched an extensive offensive against the al-Shabab fighters throughout the country in the past month.
UN envoy to Somalia Nicholas Kay has called the offensive "the most significant and geographically extensive military advance" since AU troops started operations in 2007.