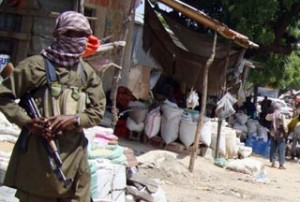 Rebels have disrupted Somalia's first parliamentary session after five months by launching a series of mortar attacks in the conflict-plagued capital, Mogadishu.
The attack on the temporary seat of the Somali parliament came on Monday as lawmakers assembled for the first time since August, after increasing hostilities sent the house to an indefinite recess.
The 300 attending lawmakers were unharmed and President Sheikh Sharif Sheikh Ahmed left shortly after delivering a speech, a Press TV correspondent reported.
The attack prompted a heavy response from the African Union forces and government troops in the beleaguered capital, killing at least 17 people and injuring 38 others.
Four employees of Somalia's Radio Voice of Democracy (VOD) were among the dead.
On the same day, a roadside bomb hit a vehicle belonging to a top Somali commander, killing at least five people and injuring eight others.
The commander was not in the car when the bomb went off, but his driver and one of his bodyguards were killed instantly.
Three passengers from a bus passing nearby were also killed in the incident.
No group has yet claimed responsibility for the latest attacks.
The fresh spate of violence in the chaotic Horn of African state has forced hundreds of families to flee their homes, adding to the humanitarian strife in the region.
Somalia has been marred by two decades of civil unrest following the ousting of former dictator Mohammad Siad Bare in 1991.
Years of fighting between rival warlords and an inability to deal with famine and disease have led to the deaths of hundred of thousands of people.