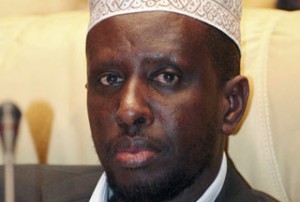 Somalia's President Sheikh Sharif Sheikh Ahmed has claimed victory over the militant groups trying to topple his government.
President Sheikh Ahmed made the remarks Tuesday after Somalia's Transitional Federal Government (TFG) forces regained the control of the strategic town of Beledweyne in the central Hiran region.TFG managed to drive Hizbul Islam militants out of the town.
The African Union-backed government troops entered Hiran region on Sunday after days of heavy clashes with al-Shabaab fighters. Government troops say they have inflicted a crushing defeat on anti-government militants during clashes in the region, a Press TV correspondent reported.
Somali officials say the recent victory in Beledweyne is just the first in a string of planned operations against opposition fighters.
Beledweyne –the capital of Hiran– is considered strategic since it connects the central regions of Somalia to the capital Mogadishu where the al-Shabaab and the Hizbul Islam militants are bent on overthrowing President Sheikh Sharif Ahmed's government.
Somalia has been without a strong central government since 1991 when warlords overthrew dictator Mohamed Siad Barre and then turned on one another.