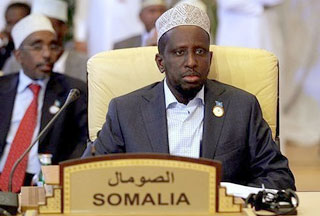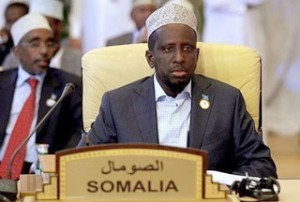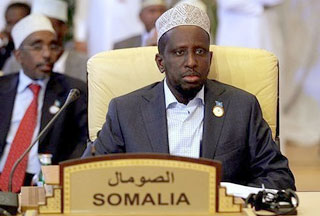 Somali President Sharif Sheikh Ahmed and a delegation of ministers and lawmakers have traveled from Mogadishu to Nairobi.
The Somali president and his delegation are scheduled to meet officials from a number of friendly countries in the Kenyan capital for talks on the Somalia crisis.
In addition, there are reports that the Greek government and some other governments have called the Somali president to offer financial support to his government.
The Somali president has also been in contact with officials from a number of member states of the Organization of the Islamic Conference and will give first priority to OIC states, the Press TV correspondent in Mogadishu reported.
This trip comes one day after the president dismissed the mayor of Mogadishu and appointed Abdi Risak Mohamed, who is also known as Engineer Nuune, as the new mayor.
In a telephone conversation with the Press TV correspondent in Mogadishu, Engineer Nuune vowed to fight hunger and poverty in the Banaadir region and to make efforts to ensure that people displaced by the fighting in the region will be able to return to their homes.
He also asked Somali businessmen, teachers, and traditional elders to help the municipal government's efforts to help innocent civilians who are in need.