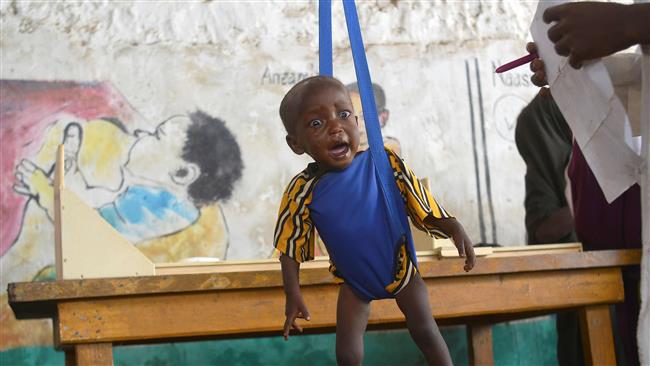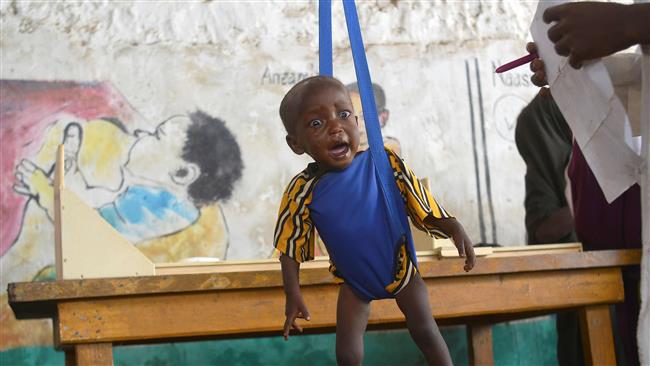 The United Nations Children's Fund (UNICEF) has warned of a new famine in Somalia and called for a massive expansion of international aid for the African country.
An estimated 2.9 million Somalis would be living in areas where food is scarce in June this year — two-thirds of them in the extremely poor rural regions, UNICEF said in a report at a high-level conference to address the deepening humanitarian crisis in Somalia in London on Thursday.
UNICEF said it feared that over the year, 275,000 children would be suffering from acute malnutrition.
The agency added that in view of the continuing dramatic situation, the organization and its partners are trying to identify the children at risk in time and to provide them with therapeutic special nutrition and to treat them.
This year, more than 80,000 children were already being examined for malnutrition, and 56,000 children with severe disabilities were treated. Ninety percent of the children were reportedly saved.
Somali children face the multiple threat of food and water shortages, as well as disease and displacement.
Many diseases are caused by contaminated water, explained the UN's children's agency .
Poor families do not have money to buy drinking water and would have to get their water from contaminated sources, it said.
With the help of UNICEF, more than one million people are currently being given access to clean drinking water, the organization said.
With the beginning of the short rainy season, hygiene will have deteriorated everywhere. This leads to a sharp increase in life-threatening diarrhea.
A fatal risk for children is also infectious diseases, according to UNICEF. More than 7,000 illnesses were reported up to the beginning of May, the UNICEF said, adding that two-thirds of those infected were children under five.
Save the Children chief Keven Watkins said the African country "continues to drift toward an avoidable famine." He called for "decisive action," including increased help from the World Bank.
At the high-level conference on Thursday, UN Secretary General Antonio Guterres and Somali President Mohamed Abdullahi Mohamed are also present.
Speaking at the conference, Guterres said the UN had presented a revised humanitarian response plan for Somalia, seeking an additional $900 million by end of year.
Guterres said in a statement that a famine has thus far been averted but the threat is deepening.
He said that "we fear the worst" to be ahead.
UK Prime Minster Theresa May is also expected to speak at the meeting.