Europe
Some world leaders in Paris rally rapped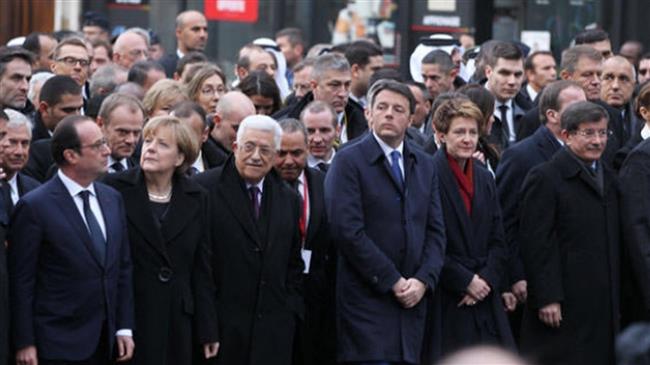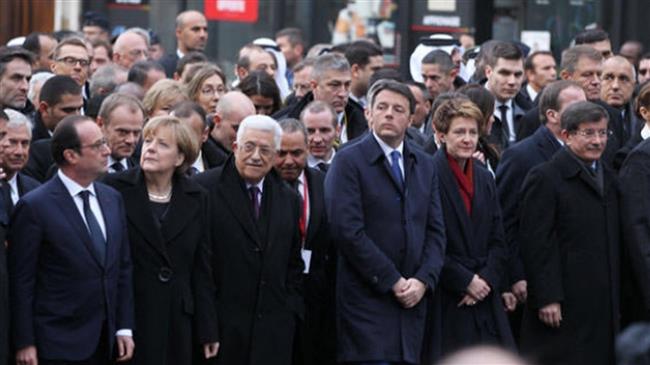 Press freedom campaigners have condemned the presence at a mass unity rally in Paris of certain world leaders who hold poor human rights and free press records in their own countries.
Reporters Without Borders criticized on Sunday the participation of leaders from certain countries, including Egypt, Turkey, Algeria and the United Arab Emirates (UAE). The group said those leaders are responsible for suppressing press freedom.
"We should show solidarity with Charlie Hebdo without forgetting the world's other 'Charlies,'" said Christophe Deloire, the secretary general of the campaign group, adding, "We should not allow the predators of the press to spit on the graves of Charlie Hebdo."
Some 40 world leaders joined the Sunday march, including EU leaders, French President François Hollande, British Prime Minister David Cameron German, Chancellor Angela Merkel as well as Turkish Prime Minister Ahmet Davutoglu.
In addition, Emirati Foreign Minister Sheikh Abdallah ben Zayed al-Nahyan and his Egyptian and Algerian counterparts Sameh Choukry and Ramtane Lamamra also took part in the Paris rally.
The rally was held to in a show of unity and solidarity following the killing of 17 people, including 12 from Charlie Hebdo, in 3 days of terrorist attacks in France.
According to the latest ranking by the campaign group of 180 countries' press freedom levels, Egypt was placed 159, Turkey 154, Algeria 121 and the United Arab Emirates 118.
Ankara has often been criticized for clamping down on journalists and sentencing them to long prison terms. Media freedom advocacy groups have on numerous occasions described Turkey as the world's largest prison for journalists.
Egyptian officials have also waged a heavy-handed crackdown on opposition media outlets since the army toppled the country's first democratically-elected president Mohamed Morsi in July 2013. In June 2014, three journalists working for Al-Jazeera news channel were sentenced to seven years in prison each after being prosecuted for protests against Morsi's ouster.