Europe
Sources warn of vote rigging in Scotland's independence vote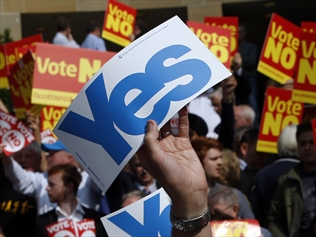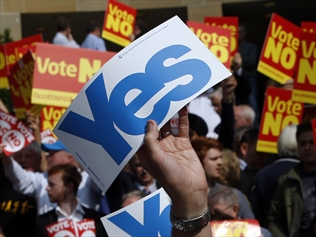 As Scotland's independence vote draws near, concerns are growing over possible vote rigging in the absence of international observers, which may cause the vote to play into the hands of the British government.
Informed sources, speaking on condition of anonymity, have told Press TV that absence of international observers to monitor the independence referendum and close competition between pro- and anti-independence camps are the main reasons that have strengthened suspicion of vote-rigging attempts.
Meanwhile, various British political leaders have been launching what has been described by Scottish First Minister Alex Salmond as a "scaremongering" campaign, in an effort to make Scots wary of the possible fallout of a 'Yes' to independence.
As recently as Sunday, Britain's Queen Elizabeth expressed hope that Scottish voters think very carefully about the future before voting in Thursday's independence referendum, adding, "Well, I hope people will think very carefully about the future."
Analysts believe that these remarks by the Queen, who is obliged by the constitution to keep her neutrality, are a caution to independence-seeking Scots.
A day after the Queen's remarks, British Prime Minister David Cameron warned the Scots against declaring independence from the UK.
As a final push for the No campaign, Cameron said, "There's no going back from this. No re-run. If Scotland votes 'yes', the UK will split and we will go our separate ways forever," he said in an emotional manner.
He also said that a 'yes' vote will not bring the changes the Scottish people desire.
"If you don't like me, I won't be here forever.… We don't need to tear our country apart," he said, adding, "Please, please, don't let anyone tell you can't be a proud Scot and a proud Briton."
Scottish First Minister Alex Salmond accused Cameron of using "scaremongering" tactics against Scotland's independence from the UK, noting, "Nobody goes back because this is a once in a lifetime opportunity and the evidence is that more and more people in Scotland are wanting to put Scotland's future in Scotland's hands."
Meanwhile, the Labour leader, Ed Miliband, claimed on Tuesday that the campaign for independence has an "ugly side."
"I think we have seen in parts of this campaign an ugly side to it from the Yes campaign," BBC quoted him as saying.
"I think debates should be conducted in a civilized way, I think that's very, very important, but I understand that passions run high. What I've enjoyed about this campaign, including today when I get the chance, is meeting people who are genuinely undecided," he said.
Moreover, 14 former chiefs of British armed forces warned in an open letter that a "yes" vote would make the whole of Britain more vulnerable to attack.
For their part, business leaders have warned that prices would rise in Scotland if Scots voted for independence. It was later revealed that Cameron had reportedly urged them to speak against Scotland breaking away from the UK.
This is while the British state broadcaster BBC has been accused of biased coverage against the independence of Scotland.
Salmond has slammed the network for using a "dirty tricks campaign" to disrupt the outcome of this week's referendum on Scottish independence.
A survey conducted by Britain-based ICM research foundation and released on Sunday, showed that the pro-independence campaign enjoyed 54-percent support compared to the 46 percent for anti-independence campaign.
The Westminster has repeatedly warned against Scotland's independence, saying it will jeopardize the UK's stability and damage its international standing.
Scottish authorities, on the other hand, argue that independence from the UK would free Scotland from London's austerity policies and unnecessary military spending.
The independence referendum could result in Scotland's breakaway from the United Kingdom after more than 300 years of political union.