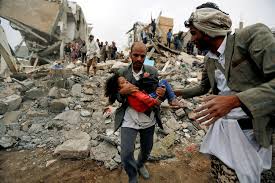 South Africa's arms sales to Saudi Arabia and the United Arab Emirates have grown since the start of the Saudi-led aggression against Yemen, expanding from basic weaponry to sophisticated battle hardware. 
South Africa is helping Saudi Arabia develop its own arms manufacturing capacity thus becoming an accomplice to Riyadh's war crimes in the impoverished Arab country, wrote the Middle East Eye.
It added that South Africa has also been selling weapons to Saudi Arabia as well as the UAE since the start of the kingdom's deadly aggression on Yemen, helping them take the lives of more innocent people, including women and children there.
"As South African President Cyril Ramaphosa concluded visits this month to the Kingdom of Saudi Arabia and the United Arab Emirates, securing $10 billion worth of investment from each country, questions arise as to what price tag is attached to these investments," the report said.
According to the annual reports of the South African National Conventional Arms Control Committee (NCACC), South Africa supplied arms, ammunition and armored vehicles, as well as surveillance and military technology to both Saudi Arabia and the UAE in 2016 and 2017, amounting to more than three billion rands (almost $228 millions).
Despite human rights concerns and reports of serious violations of international law by members of the Saudi-led coalition in the Arab country, South Africa and several Western countries have been supplying Saudi Arabia with advanced weapons and military equipment.
An academic says the arms sales by the US, UK and France to Saudi Arabia is the main reason behind the war crimes committed by the kingdom against Yemen.
South Africa is not only selling weapons to Saudi Arabia and the UAE. Mortar bombs, armored personnel carriers, artillery, ammunition, electronic attack systems and software are also amongst a range of other controlled products supplied to Riyadh and Abu Dhabi, according to the report.
In June 2016, the country's former president Jacob Zuma traveled to Saudi Arabia to launch the Al-Kharj (Military Industries Corporation) facility in Riyadh, together with the Saudi Crown Prince Mohammed bin Salman.
The $240 million projectiles factory was built in cooperation with South Africa's Rheinmetall Denel Munitions and is expected to produce a minimum of 300 artillery shells or 600 mortar projectiles per day, as well as aircraft bombs ranging from 500lb-2000lb.
In 2018, notorious South African arms dealer, Ivor Ichikowitz, announced that his Paramount Group, an African-based global defense and aerospace business, was in talks with Saudi Arabia to transfer technology and set up production plants there, the report added.
While Saudi Arabia is busy launching military factories and importing weapons, the UAE has built a formidable force of mercenary recruits, using its oil wealth to purchase arms from, among others, South Africa.
"It is well documented that the UAE has contracted private military security companies linked to Blackwater's founder Erik Prince to develop a new model army," the report said.
Another research by The New York Times revealed that this force consists of foreign troops and is trained by Western veterans and that South African mercenaries have also been employed in these private militaries in violation of the Regulation of Foreign Military Assistance Act.
Saudi Arabia and its allies launched the war in March 2015 in support of Yemen's former Riyadh-friendly government and against the Houthi Ansarullah movement.
The military campaign has killed and injured over 600,000 civilians, according to the latest figures released by the Yemeni Ministry of Human Rights.