Korea
South Korea opposition sticks to plans to impeach Park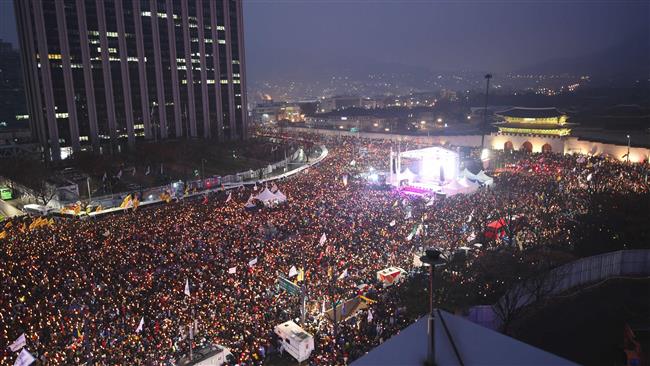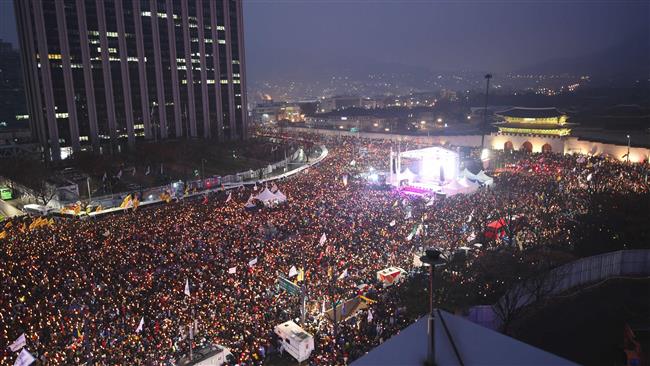 South Korea's opposition parties have agreed to keep plans to impeach embattled President Park Geun-hye, rejecting her recent offer to resign under a "safe" power transfer arranged by the parliament.
"The people of South Korea do not want to enter the new year with Park Geun-hye as president," said the leader of the main opposition Democratic Party, Choo Mi-ae, on Wednesday.
"There is only one way under our constitution to halt a term of a president and that's an impeachment motion," Choo added, dismissing the president's resignation offer as a ploy meant to avoid impeachment.
Park, whose presidency has been rocked by scandalous revelations of influence peddling and a subsequent investigation, on Tuesday offered to step down amid an increasingly tough challenge to her rule.
South Koreans have been rallying in huge numbers in the capital, Seoul, over the past several weeks to demand her resignation. One such rally drew some one and a half million people on Saturday.
While Park has apologized for the influence-peddling scandal involving her long-time confidante Choi Soon-sil, she has denied accusations by prosecutors that she had a "collusive" role in the scandal herself.
She had also been defying calls to step down, until Tuesday that is.
"If the ruling and opposition parties discuss and come up with a plan to reduce the confusion in state affairs and ensure a safe transfer of governments, I will step down from the presidential position under that schedule and by processes stated in law," she said then.
The opposition parties also agreed on Wednesday to put an impeachment motion to a vote as early as Friday or meet again if the plan does not work, state news agency Yonhap reported.
Support from two-thirds of the country's 300 parliament members is required to impeach Park. This is while the three opposition parties and independent anti-Park lawmakers hold a total of 172 seats, meaning that they need the assistance of dissenters from within Park's ruling Saenuri Party.
Park's resignation offer may change the minds of some of those who have supported her impeachment. Some members of the ruling party have already spoken of the need to review whether to impeach her or find other ways for her ouster.
If impeached, Park's presidential powers would be immediately suspended until the Constitutional Court makes a ruling on her fate. The court has 180 days for deliberations.
Choi, President Park's long-time confidante, is detained over allegations that she interfered in government decisions even as she had no official role or security clearance. Choi is also accused of exploiting her ties to the president to bully corporations into granting large sums of money to businesses and foundations that she controlled.
Park, who has immunity from prosecution while in office, refused to cooperate with prosecutors despite an earlier offer to do so.
President Park now seems increasingly unlikely to be able to finish her presidential term according to schedule. She began a five-year term in February 2013.