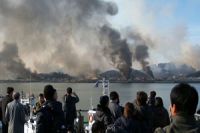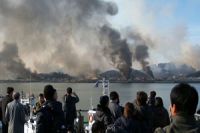 A North Korean website close to Pyongyang has warned people residing in Southern islands and border areas to leave their residences.
The Uriminzokkiri website warned on Saturday that Southern islands including Yeonpyeong are in the danger zone.
The website said "Even an accidental spark by the belligerents in their war games can grow into a fire."
The report added "And the damage for those living along the border and on the five western islands will be great."
The Yeonpyeong Island, located in the Yellow Sea, has long been a flash point between Seoul and Pyongyang.
On March 13, North Korea confirmed that it had abandoned the 60-year-old armistice that ended the Korean War, amid rising military tensions on the Korean Peninsula.
The announcement came two days after Seoul and Washington launched a week-long annual joint military exercise near the Korean Peninsula despite warnings from Pyongyang.
Pyongyang had previously said that it would scrap the 1953 armistice and peace pacts signed with Seoul in protest against joint South Korea-US military maneuvers.