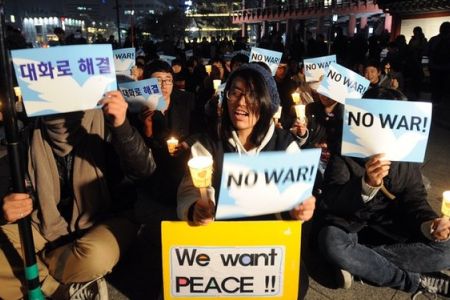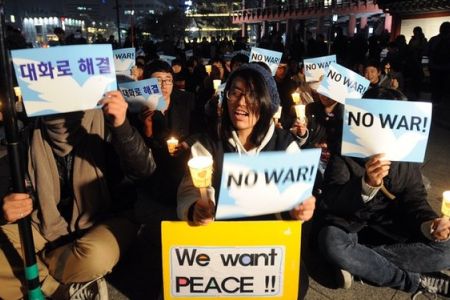 South Koreans have staged an anti-war rally to protest against the live-fire military drill Seoul has been conducting jointly with the United States near a disputed sea border with North Korea.
Gathering near the South Korean defense ministry in the South Korean capital of Seoul on Monday, the anti-war protesters asked the government to solve its problems with the North through dialogue.
"Is there any reason that the army is conducting firing exercises in areas with problems, and which the other side is against? It might be called a full-scale war. At this point, the South Korean government must stop conducting the firing exercise and stop lying that it is a justifiable exercise," anti-war protest leader You Young-Jae told Reuters.
The protest came as the US and South Korea completed a one-day live-fire military exercise on Yeonpyeong Island on Monday.
South Korea reportedly said it launched fighter jets to deter any North Korean attacks during the hour-long drill on Yeonpyeong Island.
The live-fire naval exercise ended peacefully after one hour and 34 minutes with no immediate reaction from the North.
The island was shelled by the North after similar drills last month.
The North considers the waters around Yeonpyeong its territory and has threatened to retaliate to any new drills.
The military exercise took place in waters just south of Yeonpyeong Island where a North Korean shelling on November 23 killed two South Korean marines and two civilians.
The North has accused the South of provoking the attack because shells from a South Korean military drill landed in the North's waters.
On Sunday, South Korea ordered thousands to find shelter in preparation for the drill while the United Nations' Security Council wrangled for nearly eight hours over growing tensions on the Korean Peninsula before ending its emergency meeting without a unified statement.
About 8,000 residents were ordered to take cover in Yeonpyeong, Baengnyeong, Daecheong, Socheong and Udo in the hours leading up to the drill.
North Korea said over the weekend that the planned exercises were designed to violate the armistice that ended the Korean War in 1953 and "ignite war at any cost."
Meanwhile, neighboring Japan has announced that it is strengthening its defense systems amid worsening tensions on the Korean Peninsula.
Experts say Japan and its Western partners are trying to establish a new military strategy to secure their economic superiority. They call it the beginning of a geopolitical war in the region.