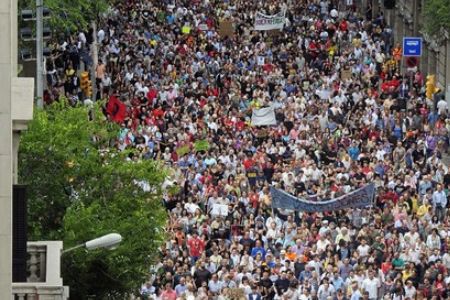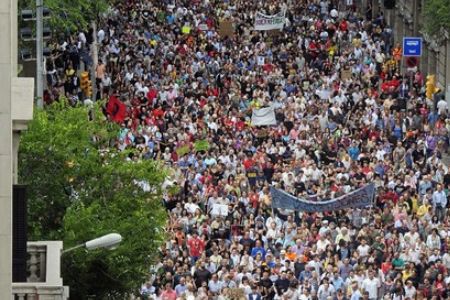 Spanish protesters have set off from Barcelona, marching toward the capital, Madrid, on their last and longest march against unemployment, welfare cuts and corruption.
The protesters, who currently number around 50, plan to campaign in every midway city to gather support for the Madrid rally, which is expected to take place on July 24, AFP reported.
The country has witnessed non-stop anti-government demonstrations since May 15.
"First we took to the streets, then the squares, and now the highways," said Rafael de la Rubia, international coordinator of the movement World without War, who is among the demonstrators.
"After that, we will take Europe," he asserted.
Spain is struggling to recover from nearly two years of recession triggered for the most part by the collapse of an overheated real estate sector.
The country's unemployment rate has reportedly surpassed 21 percent in the first quarter of the year — the highest rate recorded for joblessness in the industrialized world.
Currently, some nine million people suffer from poverty across the country.
Last month, Amnesty International warned that hundreds of thousands of families in Spain are at the risk of losing their homes.
Protests are expected to continue as the Bank of Spain says the crippled economy will likely keep a slow recovery rate and the jobless figure remain high for the foreseeable future.