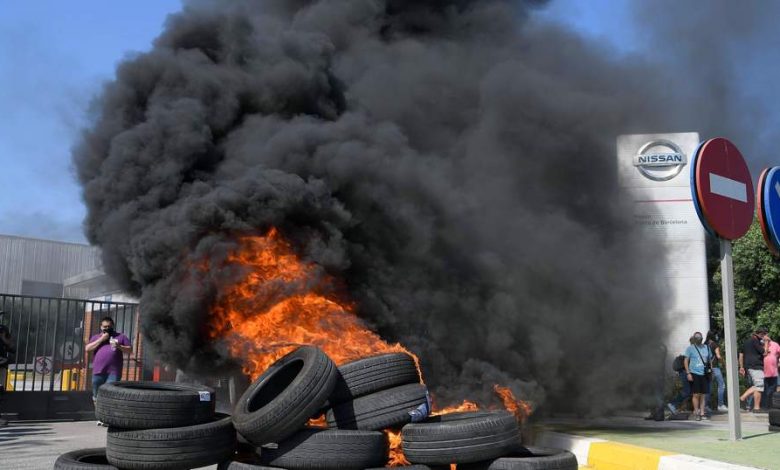 The Spanish government said Thursday the decision, which was made as part of a worldwide restructuring plan, came despite efforts to keep the plant open.
"We regret this decision by Nissan to leave not just Spain but Europe… to concentrate its business in Asia, despite the enormous efforts by the government to keep the business going," Spain's foreign minister Arancha Gonzalez Laya said.
The closure might also indirectly affect nearly 25,000 jobs, unions have said.
The move will come as a further blow to Spain whose national unemployment rate is already increasing, with a steep recession looming due to the coronavirus pandemic.
Spain's car industry, which is the European Union's second-largest after Germany's, accounts for 10 percent of its national GDP.
In January and after a meeting with leaders from Renault and Nissan, the government had said jobs at the Barcelona plant were "guaranteed."
Workers' council representative, Juan Carlos Vicente, talks to Nissan employees as they gather in front of the Japanese cars manufacturer's plant in Barcelona on May 28, 2020, to protest against the factory closure. (AFP photo)
Following Nissan's decision, the Spanish government called on the Japanese carmaker to look at other options for the Barcelona plant. So far, however, a Nissan Spain spokesman and a union leader has not responded to a request for comment.
Meanwhile, Spain's industry ministry confirmed to AFP that Nissan's chief executive had notified it of its plan to halt operations at the Barcelona site, which groups several production facilities.
Production there had already stopped at the start of the month when some staff came out on strike calling for an investment strategy for the site after it was announced that 20 percent of its workforce would be cut.
Foreign Minister Gonzalez Laya said the government would "not throw in the towel" and "explore all solutions, because our concern is to safeguard employment".
The closure could cost Nissan itself as much as 1 billion euros ($1.1 billion), the government said, noting that investing in the factory would be a cheaper alternative for the Japanese firm, which is slated to unveil a global survival plan later in the day.