Europe
Spaniards hold mass anti-austerity demos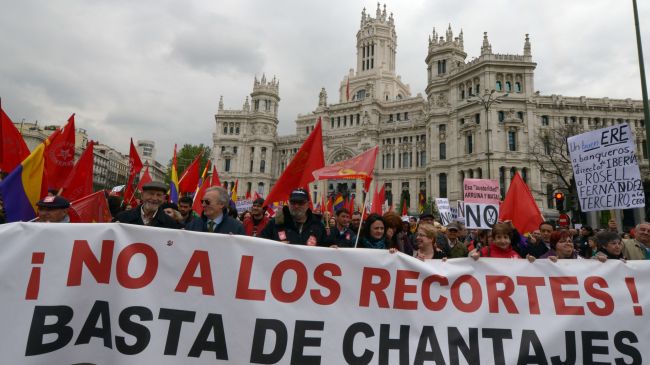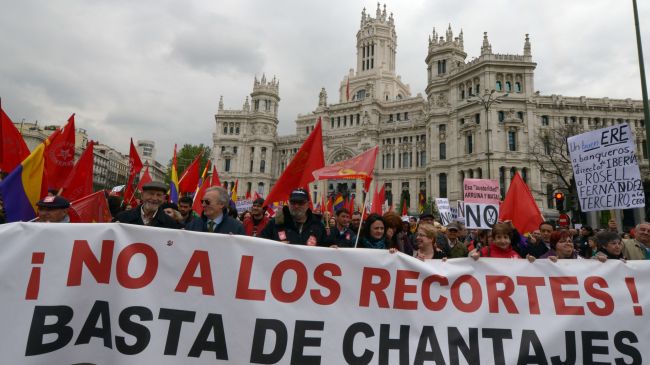 Thousands of protesters have staged rallies in Spain to express resentment against austerity measures, recession and the soaring rate of unemployment in the country.
Spaniards took to the streets in some 80 cities in trade union-organized Labor Day demonstrations on Wednesday. Large protests took place in the capital, Madrid, as well as Barcelona and Bilbao.
Demonstrators converged on the historic Plaza de Cibeles (Cibeles Square) in Madrid with flags and banners. One banner read, "You ask for patience, Rajoy? You should become unemployed today!," referring to Spanish Prime Minister Mariano Rajoy.
One protester said, "The saddest thing is we have been educating our youth for 30 years and now our youth has to immigrate to other countries, especially Germany, where they have a great workforce, because there are just no jobs here."
Another demonstrator stated that Spanish workers would "eventually have no rights at all."
"Everything we have fought for 40 years, they will just take it away from us in four years."
An estimated crowd of about five thousand people marched through the streets of downtown Barcelona on Wednesday afternoon.
Scuffles later broke out between police and protesters. Riot police used batons to disperse the crowd. Local media reported that two protesters were detained by the police.
Spain's unemployment rate is at a record high of 27.2 percent, and 57 percent for those aged under 25 are jobless.
Official data showed on April 30 that Spain's economy contracted further in the first quarter of 2013.
The country's gross domestic product (GDP) tumbled by 0.5 percent on a quarterly basis after a 0.8-percent drop in the final three months of 2012.
On an annual basis, the Spanish economy shrank by 2.0 percent between the end of the first quarter of 2012 and the end of March 2013.
Rajoy is battling to cut Spain's annual public deficit with austerity measures that have prompted mass protests.
The Spanish premier has introduced more than 60 billion euros (about $78 billion) worth of austerity measures since he took office at the end of 2011. The spending cuts have had an unpleasant effect on Spain's four million disabled people.
A survey published in early December 2012 showed that 85 percent of Spaniards had little or no faith in the governing People's Party.