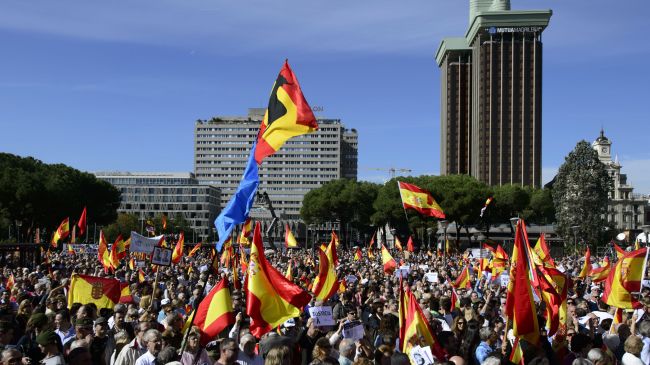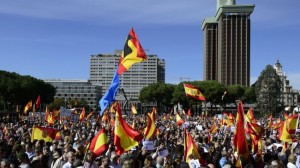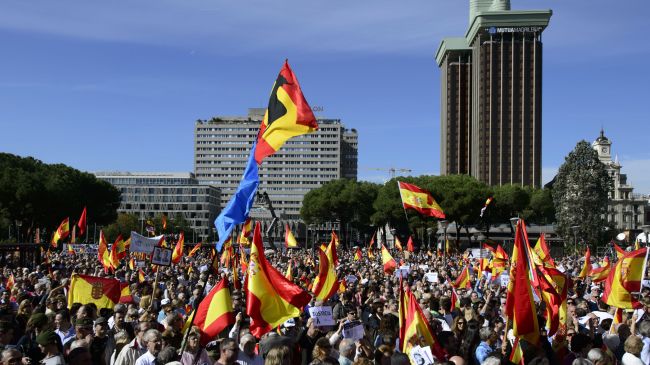 Thousands of Spaniards have taken to the streets in the capital Madrid to express their anger over a European court ruling for the release of two imprisoned members of the Basque separatist group, ETA.
On Sunday, some 200,000 people reportedly participated in the rally which took place in downtown Madrid.
"ETA assassinated my father when I was only 15 years old," said a protester, adding, "Now we have to see how these murderers walk free, smiling…. I don't want revenge but I also don't want them to enjoy what they have stolen from us."
The protesters argue that the court ruling, which will pave the way for dozens of other convicted ETA members to walk free, is not fair.
"As a result of this ruling, I have to assume that ETA has achieved its objectives," said another protester who was injured in a bomb blast said to be carried out by ETA members in 1985.
"All I want is for the law to be enforced and respected, and that we should honor the memory and dignity of the victims," the protester added.
The protest came after a ruling by the Strasbourg-based European Court of Human Rights led to the release of two Basque separatists, including the notorious Ines del Rio, who was sentenced to over 3,800 years in prison in the 1980s for carrying out multiple terror attacks that left 24 people dead.
Also on Sunday, Spanish Prime Minister Mariano Rajoy said in a statement that the demonstration is "protest of solidarity with victims, not a protest against the court."
A member of Spanish Parliament, Esteban Gonzalez Pons, also said, "The ruling is humiliating for the victims," adding, "We hope Europe will see how much this ruling has hurt Spain."
Spain has for decades dispersed ETA prisoners to detention centers across the country, aimed at making it difficult for them to communicate among themselves.
Listed as a terrorist organization by Spain, the United States, and the European Union, ETA is held accountable for the deaths of over 800 people in bombings and shootings since the late 1960s.
In 2011, ETA renounced violence but has not disarmed, as it insists Spain and France must first agree to talks on a number of issues including the fate of its imprisoned members.
The group is seeking the creation of a Basque homeland in northern Spain and southwest France.