Syria
Speaker Blasts West for Pressuring Syria to Save Israel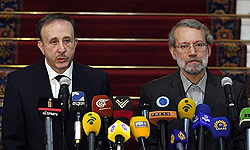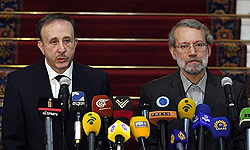 Iranian Parliament Speaker Ali Larijani slammed the West for exerting pressure on Syrian President Bashar al-Assad and the Muslim country's people due to their pioneering role in resistance against Israel.
The Iranian parliament speaker made the remarks at a press conference here in Tehran on Tuesday after a meeting with Syrian Parliament Speaker Mohammad Jihad al-Laham.
"There is a lot of pressure against the Zionist regime and the West is looking for a wider political space for Tel Aviv, hence the western states are creating crisis in Syria to save Israel," Larijani said on Tuesday.
He noted that the West is trying to bring Israel out of isolation.
The Syrian parliament speaker, for his part, that the Iranian government and nation for their supports for his country, and said, "Syria is paying the price of resisting against Israel in the Middle East."
Jihad al-Laham arrived in Tehran on Tuesday to discuss bilateral ties and regional developments with Iranian officials.
During his four-day stay in Tehran, Jihad al-Laham is slated to meet with senior Iranian officials, including President Mahmoud Ahmadinejad, Secretary of the Supreme National Security Council (SNSC) Saeed Jalili and Foreign Minister Ali Akbar Salehi.
Chairman of the Iranian Parliament's National Security and Foreign Relations Commission Alaeddin Boroujerdi was in Damascus last week and met with the Muslim country's senior officials, including President Bashar al-Assad.
During the meetings with the Syrian officials, Boroujerdi and his accompanying delegation discussed bilateral ties, regional issues and specially the crisis in Syria.
Syria has been experiencing unrest since March 2011 with organized attacks by well-armed gangs against Syrian police forces and border guards being reported across the country.
Hundreds of people, including members of the security forces, have been killed, when some protest rallies turned into armed clashes.
The government blames outlaws, saboteurs, and armed terrorist groups for the deaths, stressing that the unrest is being orchestrated from abroad.
In October 2011, calm was almost restored in the Arab state after President Assad started a reform initiative in the country, but Israel, the US and its Arab allies sought hard to bring the country into chaos through any possible means. Tel Aviv, Washington and some Arab capitals have been staging various plots to topple President Bashar al-Assad, who is well known in the world for his anti-Israeli stances.