Iran
Speaker: Increasing Number of Western Warships Cannot Change Conditions in Region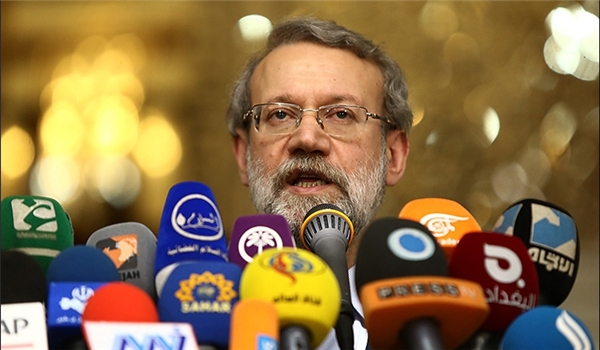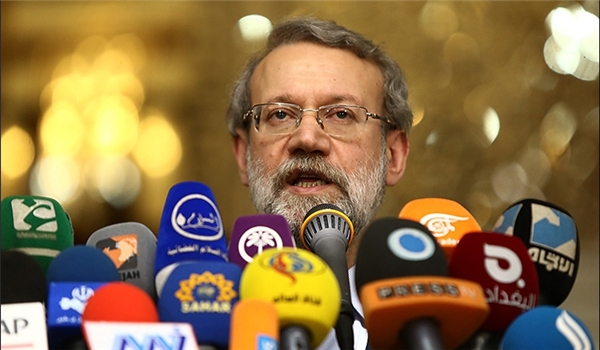 Iranian Parliament Speaker Ali Larijani warned against the western powers' new plots for the region by trying to increase the number of their warships, and underlined that Iran's Armed Forces are fully ready to maintain security of the Persian Gulf and the Strait of Hormouz without any need to the presence of the trans-regional forces.
"The big powers should know that they cannot change the conditions of the region by increasing the number of their warships," Larijani told reporters on the sidelines of the Islamic Revolution Guards Corps (IRGC) Navy's massive wargames, codenamed Payambar-e Azam 9 (The Great Prophet 9), in the Persian Gulf and the Strait of Hormuz on Wednesday.
He pointed to the presence of foreign warships in the Persian Gulf, and said, "There is no need to the presence of other countries in the region."
Larijani reiterated that other regional countries can receive Iran's experiences and achievements in defense and military fields, and said, "Iran's technology can be provided to other countries and they can count on Iran as a regional military power."
The Iranian parliament speaker referred to Iran's naval power, and said, "We have a powerful and alert force in the Southern waters that enables us to restore security to the region."
In recent years, Iran has made great achievements in its defense sector and attained self-sufficiency in producing essential military equipment and systems, but it has repeatedly stressed that it military progress and achievements are only aimed at deterrent purposes.
The Iranian Navy has been conducting anti-piracy patrols in the Gulf of Aden since November 2008, when Somali raiders hijacked the Iranian-chartered cargo ship, MV Delight, off the coast of Yemen.
According to UN Security Council resolutions, different countries can send their warships to the Gulf of Aden and coastal waters of Somalia against the pirates and even with prior notice to Somali government enter the territorial waters of that country in pursuit of Somali sea pirates.
The Gulf of Aden – which links the Indian Ocean with the Suez Canal and the Mediterranean Sea – is an important energy corridor, particularly because Persian Gulf oil is shipped to the West via the Suez Canal.
Iran's naval power has even been acknowledged by foes. In a Sep. 11, 2008 report, the Washington Institute for the Near East Policy said that in the two decades since the Iraqi imposed war on Iran, the Islamic Republic has excelled in naval capabilities and is able to wage unique asymmetric warfare against larger naval forces.
According to the report, Iran's Navy has been transformed into a highly motivated, well-equipped, and well-financed force and is effectively in control of the world's oil lifeline, the Strait of Hormuz.