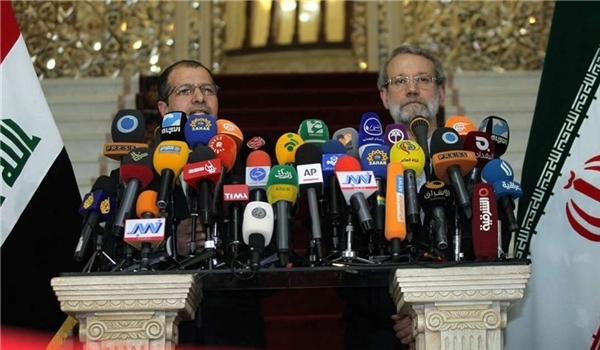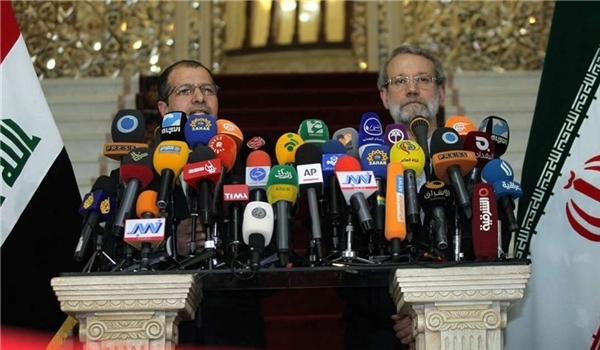 Iraqi Parliament Speaker Salim al-Jabouri described terrorism and economic crisis as two major problems that his country is facing, and said Baghdad cannot resolve them without Iran's assistance.
Jabouri made the remarks in a joint press conference with his Iranian counterpart Ali Larijani in Tehran on Saturday.
"The spread of terrorism over a large part of Iraq and confronting economic crisis are two important challenges that Iraq is facing and today we had a long discussion about these issues with Mr. Larijani," he added.
Jabouri underlined that all the regional countries should endeavor to harness the ominous phenomenon of terrorism.
Larijani, for his part, stressed the brotherly and friendly relations between Tehran and Baghdad, and said, "We are happy that today Iraq is an important regional state with a democratic system."
He also said that the issues discussed during his today meeting with Jabouri included expansion of bilateral trade ties, deepening of bilateral political and economic relations, establishment of sustainable security in the region and campaign against terrorism.
Iran and Iraq have enjoyed growing ties ever since the overthrow of the former Iraqi dictator, Saddam Hussein, during the 2003 US invasion of the Muslim country.
Last Sunday, Iraqi Finance Minister Hoshyar Zebari in a meeting with Iranian Foreign Minister Mohammad Javad Zarif in Tehran, appreciated Iran for supporting his government and nation in their fight against terrorism and extremism.
He expressed satisfaction in broadening of relations between Tehran and Baghdad, and hoped for the further mutual cooperation in the future.
The Iraqi finance minister also congratulated the Iranian nation over the nuclear agreement with the world powers, and said the agreement with the Group 5+1 (the US, Russia, China, Britain and France plus Germany) was logical, useful and good for both the Iranian nation and the region.
Zarif, for his part, said that Tehran and Baghdad that enjoy a cordial relationship were necessitated to make use of the existing capacities in line with the two sides' interests.
He called for boosting trade exchanges between Iran and Iraq, and asked for the removal of all obstacles standing in the way of Iranian contractors in Iraq.